featuring Les Choristes (SSAA); we hope to add a quality SATB audio soon
LYRICS
1) Moonset
Idles the night wind through the dreaming firs,
That waking murmur low,
As some lost melody returning stirs
The love of long ago;
And through the far, cool distance, zephyr fanned.
The moon is sinking into shadow-land.
The troubled night-bird, calling plaintively,
Wanders on restless wing;
The cedars, chanting vespers to the sea,
Await its answering,
That comes in wash of waves along the strand,
The while the moon slips into shadow-land.
O! soft responsive voices of the night
I join your minstrelsy,
And call across the fading silver light
As something calls to me;
I may not all your meaning understand,
But I have touched your soul in shadow-land.
2) The Giant Oak
And then the sound of marching armies 'woke
Amid the branches of the soldier oak,
And tempests ceased their warring cry, and dumb
The lashing storms that muttered, overcome,
Choked by the heralding of battle smoke,
When these gnarled branches beat their martial drum.
3) Mosses
The lost wind wandering, forever grieves
Low overhead,
Above grey mosses whispering of leaves
Fallen and dead.
And through the lonely night sweeps their refrain
Like Chopin's prelude, sobbing 'neath the rain.
4) The Firs
There is a lonely minor chord that sings
Faintly and far along the forest ways,
When the firs finger faintly on the strings
Of that rare violin the night wind plays,
Just as it whispered once to you and me
Beneath the English pines beyond the sea.
5) And He Said, Fight On
Time and its ally, Dark Disarmament,
Have compassed me about,
Have massed their armies, and on battle bent
My forces put to rout;
But though I fight alone, and fall, and die,
Talk terms of Peace? Not I.
(Tennyson)
They war upon my fortress, and their guns
Are shattering its walls;
My army plays the cowards' part, and runs,
Pierced by a thousand balls;
They call for my surrender. I reply,
'Give quarter now? Not I.'
They've shot my flag to ribbons, but in rents
It floats above the height;
Their ensign shall not crown my battlements
While I can stand and fight.
I fling defiance at them as I cry,
'Capitulate? Not I.'
6) Goodbye
Sounds of the seas grow fainter,
Sounds of the sands have sped;
The sweep of gales,
The far white sails,
Are silent, spent and dead.
Sounds of the days of summer
Murmur and die away,
And distance hides
The long, low tides,
As night shuts out the day.
7) Fire Flowers
And only where the forest fires have sped,
Scorching relentlessly the cool north lands,
A sweet wild flower lifts its purple head,
And, like some gentle spirit sorrow-fed,
It hides the scars with almost human hands.
And only to the heart that knows of grief,
Of desolating fire, of human pain,
There comes some purifying sweet belief,
Some fellow-feeling beautiful, if brief.
And life revives, and blossoms once again.
Emily Pauline Johnson (1861-1913)
Canadian poet of the Mohawk Nation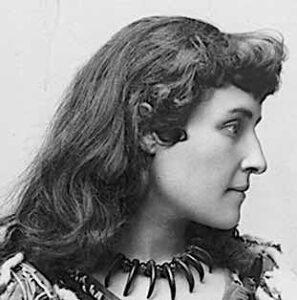 Cypress makes rehearsal tracks for choirs – here is a demo
Rehearsal Tracks – Complete Set (saving of $70)