POSTING  

and/or

STREAMING

VIDEOS
synchronization licensing
Before posting a choir video online –  Youtube or Vimeo etc., or Live-Streaming a choir performance (including church services), choirs need to write publishers for a synchronization license – because of copyright matters. If you've posted a video prematurely, it's not too late to make amends.
Cypress Choral Music offers TWO OPTIONS – depending on the format of presentation:
OPTION #1) If the virtual video is a compilation/collage of individual singers – faces in boxes (as in the banner above) – the fee is $50.
OPTION #2) If the choir is singing together as a group – performing in one location (as in this covid era photo) – the nominal fee is $25. This would include school concerts, church services, streaming a concert, etc.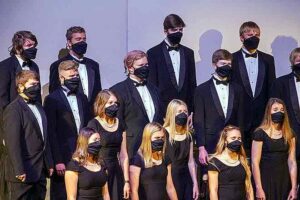 Remember this?
Make your request known to us and we will send you a PayPal request. Your payment will be followed by a simple letter of permission from Cypress. 
Q: What if our choir wants to post a video with photos and artwork – with our choir singing as the soundtrack? A: Option #2 would apply.
Q: May we embed the video on our choir website? A: Yes, please do.
Q: How long may we keep the video online? A: For as long as you wish.
REQUEST: Top three lines of Youtube credits (screenshot below)  1) Composer 2) Choir and director 3) Publisher and link to webpage
Please let us know if you have any concerns or questions.  email cypresschoralmusic@gmail.com
thanks,
Dr. Larry Nickel; CEO, editor