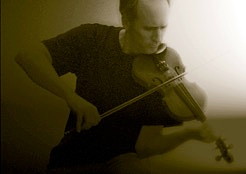 Don Macdonald (b. 1966) has a varied musical background that includes experience as a performer, conductor, educator, and composer. He is currently a member of the faculty at the Selkirk College Contemporary Music and Technology Program in Nelson, BC where he heads the composition department. Don's composition credits include commissioned classical works, arrangements and compositions for CD recordings and scores for award winning film and television. He has received two Genie nominations and 5 Leo nominations for his work in Canadian film and his score for "Fido" won the prize for best soundtrack at the Gerardmer Film Festival in France. has a varied musical background that includes experience as a performer, conductor, educator, and composer. He is currently a member of the faculty at the Selkirk College Contemporary Music and Technology Program in Nelson, BC where he heads the composition department. Don's composition credits include commissioned classical works, arrangements and compositions for CD recordings and scores for award winning film and television. He has received two Genie nominations and 5 Leo nominations for his work in Canadian film and his score for "Fido" won the prize for best soundtrack at the Gerardmer Film Festival in France.  Don's vocal background includes being a founding member of Musica Intima and Chor Leone, freelance work with the Vancouver Chamber Choir, and solo work with a variety of ensembles including the Vancouver Symphony Orchestra. His conducting experience includes positions as Assistant Conductor of the Vancouver Bach Choir, Musical Director of the Simon Fraser University Choir and studio conductor for film and T.V. sessions. He has played saxophone alongside artists such as Dee Daniels and Mike Stern and has performed on violin for numerous CD recordings and live shows. In Nov 2009 he was commissioned to write his first opera "KHAOS", a retelling of a Greek myth set in a contemporary world confronted with climate change.
visit:  donmacdonaldmusic.com
Ave Maria
by Don Macdonald
SATB    –  –  CP 1107   – 2:45
With varied dynamics, close harmonies, and several Soprano divisi sections, this composition is a gratifying and fulfilling challenge.
Ave Maris Stella
by Don Macdonald
SATB – – CP 1550 – 4:20
This gorgeous composition . "Hail, Star of the Sea", is among Macdonald's finest with long phrases and lush harmonies. Give a listen and you'l be convinced!
Blues for a Green Boy
by Don Macdonald
SSATB a cappella – – CP 1345 – 3:25
Does a person need to be sad to play the blues? Don's wife, Allison wrote the lyrics. Could the happy guitar playing boy they describe be their own son? Charming and meaningful.
also sett for TTBB – ask about it!
Eva
by Don Macdonald
SSATB a cappella – – CP 1251 – 4:20
This is a charming Jamaican folk song about a little girl named Eva. Jazzy, rhythmic, and full of great harmony! Listen to the recording.
The Piano
by Don Macdonald
SSATB a cappella – – CP 1353 – 3:50
Who knew that a text by D.H. Lawrence could receive such a becoming choral setting!? Anyone who has ever played the piano will love this piece.
Tabula Rasa
by Don Macdonald
SATB (with divisi) – –  –  CP 1169   – 3:40
SSAA  – –  –  CP 1318
TTBB – –  –  CP 1707
Tabula Rasa  – This Latin phrase translates as "Blank Slate" in English.  The composer had a specific image in mind when composing this music. A quiet moment between a mother and child when the mother sees, as she has never seen, the potential of the precious life she holds in her arms. A silent acknowledgement of her child and every child as a "blank slate" with seemingly limitless potential.
This emotionally uplifting work relies on gentle dissonances that ebb and flow with the Spanish text. It has been performed by youth choirs as well as professional ensembles and would make a great choice for festival competition. TABULA RASA was the winning composition of the 2010 DaCapo Chamber Choir NewWorks competition.
There Is No Rose
by Don Macdonald
SSATBB    –   CP 1222    – 4:30  


SSAA    –    CP 1106 
Don captures the glory and mystery of the Virgin birth with this exquisite composition.
Winter Sun
by Don Macdonald
SSAATB    –   CP 1288   – 3:20
SSSAAA    –    CP 1305 
"To light, to water, and the flow of birds through ancient stars." Don has set the poignant poem of Canadian poet Malca Litovitz in his inimitable style. Don employs contemporary techniques with classical tonality – unusual and attractive at once and very convincing. Please give a listen.