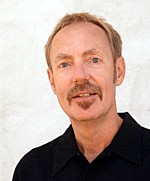 Mark Sirett (b. 1952) is a native of Kingston, Ontario and holds both masters and doctoral degrees in choral conducting and pedagogy from the University of Iowa. He has taught at the University of Alberta, Western Ontario and Queen's. Since 1996 Dr. Sirett has been the Artistic Director of the Cantabile Choirs of Kingston, a multi-choir educational program consisting of six choirs and nearly 300 singers.  Choirs under his direction have won various provincial, national and international awards including the CBC Choral Competition.  
Mark is also an award-winning composer and arranger whose works have been published in Canada, Britain, the US and Sweden. His compositions and arrangements have been performed and recorded by some of Canada's leading choirs and heard on CBC, NPR and in Europe. Dr. Sirett has won two international awards in conducting:   the International Jury Award for Imaginative Programming and Artistry at the 2002 Cork International Choral Festival, Ireland and Outstanding Conductor at the Young Prague Festival in 2004. He is frequently in demand as a guest conductor, clinician and adjudicator. He is a recent recipient of the President's Leadership Award from Choirs Ontario and Outstanding Choral Composition 2010 from the Association of Canadian Choral Communities.  
A la claire fontaine
arr. Mark Sirett
SA  with piano    –    CP 1446   – duration 3:05   


This song may have appeared as early as 1604, when the first French settlement was established in Quebec. A clear fountaine, a rose, and heart-break. Children sing this folk-song and adults relate to the deeper meanings.
instrumental parts: free upon request 
After the War
by Gross and Keele arr. Mark Sirett
SATB    with piano    –    CP 1328   – duration 4:35
SSA    with piano    –    CP 1326
TTBB    with piano    –    CP 1378
Sarah Slean sang this song in the film "Passchendaele".  Paul Gross, from Calgary-Alberta, wrote, co-produced and starred in the film which focuses on the experiences of a Canadian soldier at the Third Battle of Ypres. Mark has transformed the song into a wonderful choral composition which would be well suited to Remembrance Day events or any concert concerning War and Peace.
Instrumental parts – (optional and not available through retailers) – $20 (full set sent via PDF files): 
full score plus; oboe, flute, violin and double bass
The Cliffs of Dooneen
arr. Mark Sirett
SATB    with piano    –    CP 1164   – duration 4:05   


SSA    with piano    –    CP 1382
The Cliffs of Dooneen is a popular and haunting Irish folk song that extols the rugged beauty of the Atlantic coast. The final verse expresses longing for the homeland–a sentiment shared by many Irish immigrants during the nineteenth century when they were forced to leave for North America because of the Great Famine. This arrangement was written for Sister Rita Clare and the Cape Breton Chorale for the Celtic Colours Festival in 2008.  The SSA version is dedicated to Ann McIntyre, Conductor of the Edmonton Children's Choir. 
Citadel Hill
arr. Mark Sirett
SATB    with piano    –    CP 1245   – duration 3:00   


SSA    with piano    –    CP 1335      
Mark is a master of writing approachable choral music. After all, he directs his own choirs every week and adjudicates choral festivals all over the country. So his voice leading is intuitive, making the learning process a breeze for the director and a joy for the singers. This is another of his charming folksong arrangements.
Cotton Jenny
by Gordon Lightfoot, arr. Mark Sirett
SATB    with piano    –    CP 1787   – duration :20   


TTBB    with piano    –    CP 1790      
Many singers and audience members will remember this delightful folk song by Lightfoot.  "Wheels of love go 'round!" Dr. Sirett has created an approachable type of "round" with his skillful writing. Great fun!
Farewell to Tarwathie
arr. Mark Sirett
SATB with piano    –    CP 1357   – duration 3:30   


SSA with piano    –    CP 1597
TTBB with piano    –    CP 1876
Hunting for whale off the coast of Greenland and the pain of separation – leaving loved ones across the sea. This is another effective folk song that will endear audiences.
Faith in Peace
by Mark Sirett
SATB    with piano    –    CP 1860   – duration 6:45    


Peace demands more than our self-serving schemes,
She seeks our resolve – she seeks our best.
 May we never lose our faith in peace.
Lester B. Pearson (Canadian Prime Minister)
Johnnie Cope
arr. Mark Sirett
SATB   with piano    –    CP 1559   – duration 2:50   


The Scottish folk song gives an account from the Jacobite viewpoint of the Battle of Prestonpans. In the battle, which took place during the Second Jacobite uprising, Sir John Copewas the commander of the government troops, and was defeated in a dawn attack by the Jacobites.
The song includes several apocryphal incidents, including challenges conveyed by letters between Cope and his rival Bonnie Prince Charlie, as well as accurate accounts of Cope's cowardice. It also includes an account of him fleeing from the battle all the way back to Berwick, being the messenger of his own defeat, which is also true . The battle was a decisive victory for the Jacobites.
Leezie Lindsay
arr. Mark Sirett 
SATB  with piano    –    CP 1558   – duration 4:40   


A highland Laird courts Leezie Lindsay in Edinburgh, sometimes after his mother had warned him not to hide his highland origins. Her family warns him off, but her maid encourages her. She finds the highlands hard, but finally he brings her to his family, where he is a lord, and makes her the lady of a great castle.
Pierless Bridge, the
by  Mark Sirett   
SATB    with piano    –    CP 1294   – duration 3:10
TTBB    with piano    –    CP 1333
SSA    with piano    –    CP 1332
Emily Dickinson explores the question of faith is this poignant poem and Mark gives her poetry a perfect gentle setting. (a personal favourite of Dr. Larry Nickel)
Sparrow
by  Susan Crowe and Raylene Rankin, arranged by Mark Sirett
SSA with piano and violin or flute    –    CP 1607  – duration 3:05   


SATB with piano and violin or flute    –    CP 1610
violin part available upon request (no charge)
Little sparrow, still you fly
Still you gaze into the sky
Are you longing, do you yearn
For a tall tree to return?
True North
by  Mark Sirett   
SATB    with piano    $2.75    CP 1575   – duration 7:00
This is a stirring anthem for proud Canadians. "Awake, my country, the hour is great with change!"