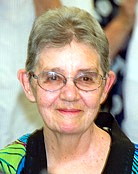 Gail Lund (b. 1939) was born in Toronto and studied music with Earl Moss, Godfrey Rideout, and Gordon Delamont.She graduated from the Radio and Television Arts course at Ryerson and worked as a rehearsal pianist at the CBC, and as an accompanist for singers and musician touring in Eastern Canada. Gail lived overseas for ten years, and worked as a musician in Zimbabwe and South Africa before returning to Canada and settling on Gabriola Island with her husband and two sons. Gail has been the musical director of the Gabriola Island Singers for the past 25 years, and was the accompanist and co-director of the Malaspina Choir. She has written many original works and arrangements for her various choirs.
Comfort Me With Apples
by Gail Lund
SATB with piano    –    CP 1531   – 2:50
Is this the oldest love song ever written?  Inspired by the Song of Solomon this romantic song is very do-able by community choirs and your more experienced choir will love it.  There are nice echoes of the Sephardic tradition in the piano part that evoke the time and place of the lyrics.
Gabriel's Message
arr. Gail Lund
SATB with piano    –    CP 1530   – 2:30   


 This is the most famous and best-loved Basque carol about the Annunciation to the Virgin Mary by the archangel Gabriel that she would become the mother of Jesus Christ.  This arrangement contains interesting harmonies and accompaniment and will be a favourite of your choir.
The Lesser Joys of Christmas
by Gail Lund
SATB with piano    –    CP 1111   – 4:00   


A light-hearted look at the "other" side of Christmas, including the stress of shopping, attending Christmas concerts and writing those terminally cheerful Christmas letters!  Delightful lyrics by Marion Woodson.