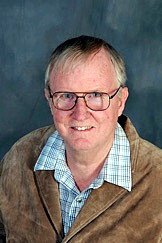 For nearly forty years, Dave Baker (b. 1945) has been writing and singing songs about the west coast of Canada. Raised in Nanaimo and Duncan on Vancouver Island, Dave is eminently qualified to write about the lifestyle, and the many historical personalities and icons that have contributed to the development of the area. Dave is also a railway enthusiast. Over his lengthy career in music, Dave has produced three vinyl LPs and four CDs  Many tracks from these recordings have received radio airplay both nationally and internationally. His songs have appeared several times on national Canadian country music charts as well as featured on play-lists in the US, Europe, Australia and New Zealand. Since Dave's songs were arranged for choirs by noted Vancouver composer/arranger Dr. Larry Nickel, choirs across Canada have included Dave's work in their repertoire. Visit Dave's website here.  
Island Bound
by David Baker, arr. Larry Nickel
SATB with piano $2.50 CP 1146 duration – 2:30


A person residing on the east coast longs to return to his west coast home and he is ready to say "I'm sorry". This beautiful song has rich harmonies. High School and Community Choirs will love it.
also available: TTBB with piano – upon request
Kettle Valley Railway
by David Baker arr. Larry Nickel
SATB with piano $2.50 CP 1229 duration – 3:25

SAB and TTBB versions available upon request
Another great west coast Canadian folk-song by David Baker! The story describes how David's child-hood memories turned him into a railway buff.
watch the youtube video here
Land of Maquinna
by David  Baker    arr. Larry Nickel
SATB with piano    $2.50    CP 1153  duration – 4:00

TTBB with piano
available upon request
Chief Maquinna served his people in the Pacific Northwest. He was an effective leader in dealing with the first European settlers.  Dave's music and lyrics capture a distant time and place – a legend "carved upon the sand".  
watch the youtube video here
also available: TTBB with piano – upon request