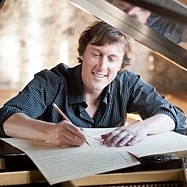 Timothy Corlis brings an eclectic background of experience and interests to his compositions. He has degrees in anthropology and physics and in social and political thought as well as an M.Mus in composition. His earliest musical roots were as part of the Anglican choral tradition in Toronto and later in the lively choral community of Waterloo (Ontario) and its surroundings. This has instilled in him a continuing sense of music as a communal activity. He also views music as a strong power for social change. Corlis' music has been performed across Canada to critical acclaim – in 2009 he was nominated for a Juno award; he has been described in the media as "a composer of great depth and passion, not to mention a pristine polished craft".
Dr. Corlis is also a publisher.  Visit his website:  Silent Dawn Publishing
Sonnez les Cloches (Frères Jacques)
arr. by Timothy Corlis
SATB – a cappella – CP 1277 – 2:15
SSAA – a cappella – CP 1716
Never has this simple delightful folk song received such sophisticated treatment. It would be impossible to sleep through this one!
Sonnez les Cloches is a fun twist on the children's song Frère Jacques. The choir begins with the familiar nursery rhyme and then sounds the bells of Matins with an extended bell ringing session on the words "din dan don!" The piece was commission by the Vancouver Chamber Choir and is dedicated to Michiko Asami, the Canada Friendship Association and the people of Shunan in grateful memory of the choir's collaboration during their tour of Japan in the autumn of 200