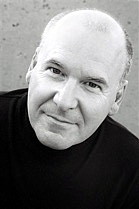 One of Canada's most prominent composers, Stephen Chatman (b. 1950), is professor of composition at The University of British Columbia in Vancouver. A multiple Juno nominee, he has received many composition awards, including the 2005, 2006 and 2010 Western Canadian Music Awards, "Classical Composition of the Year", 2010 and 2012 SOCAN Jan V. Matejcek New Classical Music Awards and three B.M.I. Awards. In 2012 Dr. Chatman was appointed a Member of the Order of Canada. 
CD recordings of Chatman's work include three choral collections performed by Vancouver Chamber Choir, Due North, Due West and Due East. Other CD recordings include Magnificat, A Chatman Christmas, Vancouver Vision, Proud Music of the Storm, and Earth Songs. His works, published by E.C.Schirmer, Oxford University Press, Boosey and Hawkes, earthsongs, Frederick Harris, Dorn, and T. Presser, and have sold over 500,000 printed copies.   please visit drstephenchatman.com
Let it be Forgotten
by Stephen Chatman
SATB a cappella – CP 1263  – duration 3:15
Sara Teasdale's evocative poem is presented with great tenderness by Dr. Chatman. His quality writing is suitable for choirs from High School to University Ensembles
Tears
by Stephen Chatman
SATB with piano – CP 1959  – duration 1:55
Mourn that which will not come again,
The joy, the strength of early years.
Bow down thy head, and let thy tears
Water the grave where hope lies slain.
For tears are like a summer rain,
To murmur in a mourner's ears,
To soften all the field of fears,
To moisten valleys parched with pain.
And though thy tears will not awake
What lies beneath of young or fair
And sleeps so sound it draws no breath,
Yet, watered thus, the sod may break
In flowers which sweeten all the air,
And fill with life the place of death.
Robert Fuller Murray 
Welcome joy, and welcome sorrow
by Stephen Chatman
SATB with piano – CP 1927   – duration 2:30
Dr. Chatman has always chosen quality poetry with great care and conviction. He has created a lovely marriage of music and text with this composition.
John Keats (1795-1821) loved the principle of beauty in all things. He expressed the idea in this poem of opposites, "Welcome joy, and welcome sorrow". Keats implies that we can find joy in sorrow, beauty in ugliness, poverty in wealth, and so forth. Nothing can last forever. Joy and pleasure at this moment can be gone before we know it. We should welcome and embrace life in all its permutations.