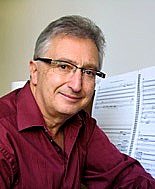 A native of Manitoba, Sid Robinovitch (b. 1942) taught social sciences at York University in Toronto, but for over three decades he has devoted himself to musical composition.  He presently lives in Winnipeg, where he works as a composer and teacher.  Robinovitch's music has been widely performed in Canada and abroad, having been featured by groups such as the Elmer Iseler Singers, the Vancouver Chamber Choir, the Amadeus Choir, and the Winnipeg, Toronto, and Montreal Symphony Orchestras. His works have been frequently broadcast on CBC radio, and he has also written music for film and TV where he is best known for his theme for the satirical comedy series, "The Newsroom." "Klezmer Suite," a recording devoted entirely to his music performed by the Winnipeg Symphony under the direction of Bramwell Tovey, was nominated for a 2002 Juno award and received a Prairie Music Award for outstanding classical recording.  "Sefarad," a CD showcasing his music for guitar, was released in 2008 on the Marquis label and received both Juno and Western Canadian Award nominations for classical recording of the year.  His latest recording, "Choral Odyssey," was released in 2012 and features the Winnipeg Singers under the direction of Yuri Klaz. 
The Coming of Teddy Bears
by  Sid Robinovitch
SATB a cappella    –  – CP 1724    – 2:15
Dennis Lee's bedtime poem is given a scrumptious setting with long lines, intuitive voice leading, sweet-spot vocal registers and sensual harmonies.  Approachable for most SATB choirs, this piece would make a touching conclusion to any program.
The Lord is My Shepherd - Psalm 23
by Sid Robinovitch
SATB with keyboard or a cappella – – CP 1281 – 4:20
(other vocal settings – for men's choir and women's choir – are in progress – see below)
Psalm 23 was commissioned by the Royal Canadian College of Organists and first presented at the 2004 Winnipeg Organ Festival. It exists in several different forms, allowing wide flexibility in performance. The vocal harmonies are complete unto themselves so that it can be performed a cappella or with organ or piano accompaniment. There are versions in English for SATB, SA, and TB choirs and also a version for SATB using the original Hebrew text. Here is what the Winnipeg Free Press reviewer said about the premiere:
"A true highlight of the program has to be Manitoba composer Sid Robinovitch's Psalm 23 – The Lord is My Shepherd, one of the commissioned works. Just when you think you've heard every possible version of this most famous psalm, Robinovitch comes along with this charming and very listenable rendering.
It had drama, varying colors and moods and was simply lovely. The tenors and basses sang it through the first time, showing good balance. The women joined them for the repeat and with the organ (which has as important a role as the singers in this piece), presented a stirring new hymn that deserves to become a tradition." (Gwenda Nemerofsky, July 20, 2004)