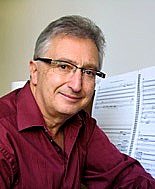 Sid Robinovitch: Encompassing a wide variety of musical styles and forms, Robinovitch's works have been performed throughout North America and abroad, having been featured by groups such as the Elmer Iseler Singers, the Vancouver Chamber Choir, the Amadeus Choir, and the Louisville, Toronto, and Montreal Symphony Orchestras. In addition to his concert works, Robinovitch has written music for film, radio and TV, where he is probably best known for his theme for the CBC-TV satirical comedy series, "The Newsroom."  He has received  6 Juno and Western Canadian Music Award nominations and won a Prairie Music Award for outstanding classical composition of the year for his Suite for Klezmer Band and Orchestra recorded by the Winnipeg Symphony Orchestra under the direction of Bramwell Tovey. 
DENNIS LEE TRILOGY - the complete set
by  Sid Robinovitch
SATB a cappella  –  CP 1826    – duration 8:45
The complete set:  1) The Coming of Teddy Bears  2) The Wizard  3) Deeper
These compositions are also available individually (listen below)
Dennis Lee began writing for children as part of his goal of "Reclaiming language and liberating imagination"; his poems are about the language and activities of the daily lives of children, expanded into the realm of imaginary play and fantasy.
The Coming of Teddy Bears - (DENNIS LEE TRILOGY - Mvt. #1)
by  Sid Robinovitch
SATB a cappella  – CP 1724  – duration 2:15
Dennis Lee's bedtime poem is given a scrumptious setting with long lines, intuitive voice leading, sweet-spot vocal registers and sensual harmonies.  Approachable for most SATB choirs, this piece would make a touching conclusion to any program.
The Wizard- (DENNIS LEE TRILOGY - Mvt. #2)
by  Sid Robinovitch
SATB a cappella  –  CP 1746 – duration 3:30
Enjoy this rollicking poem by Canada's foremost poet for children, Dennis Lee. Sid Robinovitch's composition aptly illustrates the crazy text with up tempo rhythm and bluesy motifs.
Deeper- (DENNIS LEE TRILOGY - Mvt. #3)
by  Sid Robinovitch
SATB a cappella  –  CP 1747 –  duration 3:00
It seems that Dennis Lee was deep in thought when he wrote this poignant poem and Sid must have been in a similar mood to give it such a lovely setting.
The Lord is My Shepherd - Psalm 23
by Sid Robinovitch
SATB with keyboard or a cappella – CP 1281 – duration 4:20
(other vocal settings – for men's choir and women's choir – are in progress – see below)
Psalm 23 was commissioned by the Royal Canadian College of Organists and first presented at the 2004 Winnipeg Organ Festival.  It exists in several different forms, allowing wide flexibility in performance.  The vocal harmonies are complete unto themselves so that it can be performed a cappella or with organ or piano accompaniment. There are versions in English for SATB, SA, and TB choirs and also a version for SATB using the original Hebrew text.  Here is what the Winnipeg Free Press reviewer said about the premiere:
"A true highlight of the program has to be Manitoba composer Sid Robinovitch's Psalm 23 – The Lord is My Shepherd, one of the commissioned works. Just when you think you've heard every possible version of this most famous psalm, Robinovitch comes along with this charming and very listenable rendering. It had drama, varying colors and moods and was simply lovely. The tenors and basses sang it through the first time, showing good balance. The women joined them for the repeat and with the organ (which has as important a role as the singers in this piece), presented a stirring new hymn that deserves to become a tradition." (Gwenda Nemerofsky, July 20, 2004)
One Small Goat
arr. Sid Robinovitch
SATB a cappella – CP 2148 – duration 1:55
The story of "One Little Goat" is based on a traditional song that dates back at least to the 17th century, sung and enjoyed all over the world (especially by children!) at the end of the Jewish Passover meal. The song is from the point of view of a child whose father buys a little goat for two pennies – and then…. well!  The things that happen!
Sid's arrangement is upbeat and great fun!
SEA TRILOGY - complete set
arr. Sid Robinovitch
SATB with piano – CP 2184 – duration 9:30
1) Way, Haul Away – details below
2) Drunken Sailor – details below
3) Lillibulero – details below
Way, Haul Away (SEA TRILOGY - Mvt. 1)
arr. Sid Robinovitch
SATB with piano – CP 2168 – duration 2:40
Way, haul away, we'll haul away the bowlin'
Way haul away, we'll haul away Joe.
Way haul away, the packet is a-rollin,'
Way haul away, we'll haul away Joe.
Drunken Sailor (SEA TRILOGY - Mvt. 2)
arr. Sid Robinovitch
SATB with piano – CP 2182 – duration 3:05
What shall we do with the drunken sailor 
Way, hay, and up she rises, 
Sing hooray and up she rises,
A new day and up she rises, 
TALMUD SUITE
by Sid Robinovitch
1) Thanksgiving Upon Awakening (mvt #1) – duration 2:35
2) Funeral Oration (mvt #2) – duration 1:45
3) Song of Protest (mvt #3) – duration 1:50
4) On the Death of the Child (mvt #4) – duration 3:25
5) Advent of the Messiah (mvt #5) – duration 2:55
Movements are available separately – or as a set.
The Talmud is a vast corpus of law, commentary, legend, and philosophy, compiled more or less independently in Palestine and Babylonia between the third and eighth centuries.  The arguments and dissenting opinions of the leading scholars and schools of the time are recorded in all their complexity and universality of reference. No other work has had a comparable influence on the theory and practice of Jewish life, shaping spiritual content and serving as a guide to conduct throughout the world.
Although the Talmud's main objective is to provide legal interpretation, it is, simultaneously, a work of art that goes beyond legislation and its practical application.  It is a blend of subtle logic and unswerving pragmatism, of history and science, anecdote and humour.  It also occasionally contains short poems – prayers designed for synagogue use, private devotions, elegies, and random snatches of popular verse, and it is this kind of material which provides the texts for accompanying set of choral pieces.
While  there is an unmistakable reference to earlier periods of musical expression in these pieces, there has been no attempt at evoking the historical or geographical setting in which the texts were created. The music is solely a response to an ancient and still very much living tradition through the heart and mind of a modern reader.