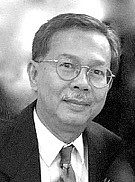 Ruben Federizon started his formal study in music at University of the Philippines. He later continued his graduate studies at San Francisco State University and University of British Columbia where he finished his Master's Degree in Music. Ruben has continuously immersed himself in the world of music performance, particularly sang with the Philippine Madrigal Singers and eventually became the group's resident arranger and composer. His choral works and arrangements have been widely performed in major choral festivals and competitions across Europe, Asia, and America, notably Concorso Polifonico Guido d'Arezzo, Bela Bartok International Choir Competition, International Chamber Choir Competition Marktoberdorf, California International Choral Festival and Competition (San Luis Opispo) and Kathaumixw International Choral Festival; in choral conferences, notably, the American Choral Directors Conference and World Youth Choir Conference (Estonia.) Currently, Ruben resides in Vancouver, British Columbia in Canada and is Music Director at Saint Faith's Anglican Church.
La Virgen Lava Panãles
arr  Ruben Federizon
SATB a cappella  –   CP 1598   – 3:08   


This classic Mexican Christmas carol arrangement really captures the magic. Beautiful harmonies support the plaintive minor melody. Give a listen to the famous Filipino Choir – the Philippine Madrigal Singers.