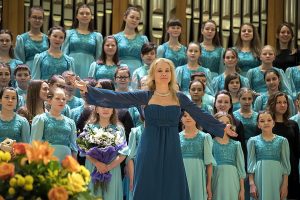 Since 2012 Nadezhda Averina has been Principal of Ponomaryov VESNA Choir School, Artistic Director and Conductor of VESNA Children's Choir. Under the leadership of Dr. Averina, the Choir received first places and Grand Prix at the international choir competitions in 2006 (Tolosa, Spain), 2010 (Nyiregyhaza, Hungary), 2012 (Malcesine, Italy), 2014 (Neerpelt, Belgium and Halle, Germany), 2016 (Debrecen, Hungary), 2017 (Daugavpils, Latvia) and "Europe-2017 Grand Prix" (Tolosa, Spain). PhD (History of Arts), Professor of Moscow Conservatory, laureate of international competitions, Merited Artist of Moscow.
Dr. Averina has written articles on methodology of teaching, arranged for choir performance a number of music pieces, compiled numerous choir music collections (seven of them were included in the Golden Library of Choirmaster series). She holds seminars and master classes for choirmasters on a regular basis, she is a member of judging panels of many Russian and international choir competitions.
Zimfira Poloz – our Cypress curator who travels widely every year – brought Nadezhda into her "choral gems" series.
Abendlied
by Josef Rheinberger, arr. Nadezhda Averina
SSAA – cappella    –    CP 1661 –  – duration 2:40
This beloved composition has been set for treble voices by one who works in the genre all the time.  Gorgeous long lines and intuitive voice leading will make this a favourite for the singers – and the audience.
Bogoroditse Devo, raduisya
by Sergei Rachmaninoff, arr. Nadezhda Averina
SSAA a cappella  –   CP 1799 – duration 2:50
This classic work is a masterpiece of one of the grea Russian composers Sergei Rachmaninoff. Its endless melody lines, very natural and smooth, simple and beautiful harmony, expressive form give a lot of pleasure to both singers and listeners. The work is very popular among the mixed choirs all over the world and now with the arrangement you have possibility to perform it with treble voices.
Crucifixus
by Antonio Lotti, arr. Nadezhda Averina
SSAA a cappella  –  CP 1852 – duration 4:25
Stress and release, dissonance and consonance; as one crunch resolves to relief it leads into the next moment of tension – like throbbing pain. Choirs have been singing this stunning depiction of the crucifixion for centuries and now Nadezhda has written the perfect setting for treble choir.
Evening
by Sergej Taneyev, arr. Nadezhda Averina
SSAA a cappella  –  CP 1853 – duration 3:00
The flame of the fast-fading sunset
has scattered its sparks across the sky.