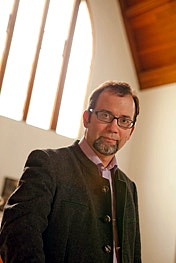 Since 1980, Michael Murray (b. 1960) has had a busy career as organist and choir director in the city of Vancouver. Apart from a brief five years in Toronto from 1984 to 1989 when he received his Diploma in Organ Performance, he has been on the West coast working as a professional musician. Currently, Michael is Director of Music at St. Philip's Anglican Church, Director of the Abendmusik Chamber Choir and is the Organ Instructor at the U.B.C. School of Music. In 1992 he decided that the city could do with another chamber choir so he founded the vocal ensemble musica intima.
Recent CDs include 'Obbligato Sonatas by J.S.Bach' with flutist Mark Takeshi McGregor, and Phoenix Chamber Choir's  'Mid-Winter Songs' both recorded at St. Philip's on the three manual Casavant organ.
Ce matin j'ai recontré le train
Ce matin j'ai recontré le train    by Michael Murray
SATB  a cappella  –  CP 1420    – 2:35   


Listen to this quality recording by musica intima – one of Canada's finest choirs. Imagine being a bystander when the caravan with the three magi marches past.