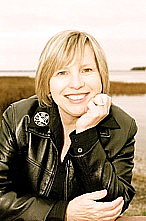 Martha Hill Duncan (b. 1955) is an award-winning composer, choral conductor and piano teacher.   A transplanted Texan living in Kingston, Ontario, she is a graduate of The Houston High School for Performing and Visual Arts and The University of Texas at Austin with studies in voice, composition and piano.
Martha is known for her piano and vocal writing with many of these works appearing in conservatory syllabi and publications.  She has received numerous choral commissions from a variety of choral organizations and frequently writes for She Sings!, the Kingston women's choir which she also directs. Her opera, Searching the Painted Sky, with librettist Janet Windeler Ryan, was premiered by The El Paso Youth Opera in New York City in 2014 and in Toronto, July 2015. Martha is a founding member of Red Leaf Pianoworks a cross-Canada composers' collective and a piano examiner for The Royal Conservatory of Music.  For more information visit www.marthahillduncan.com
My Cedar Canoe
by Martha Hill Duncan
SA with piano – CP 1425 – 1:35
Think of serenity – paddling a canoe on a quiet lake. Perfect for young voices but also suitable for women's choir.
Star Light, Star Bright
by Martha Hill Duncan
SSA with piano  –   CP 1426   – 3:25
Star light, star bright – first star I see tonight. This would really work at Christmas or at any time of year.s.