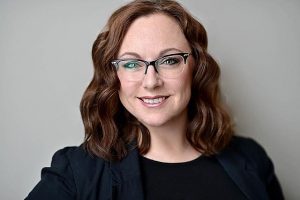 Kathryn Parrotta (b. 1981) has extensive experience in Calgary's choral community. From the age of 8 her songs were being performed and recorded by choirs around the city.  She has studied piano, flute, theory, composition, and voice with mentors including Alan Riser, Tim Janz, Dawn Johsnon, Pat Hrynkiw, Marnie Strome, Elaine Qulichini, Janet Youngdahl, and Malcolm Edwards.  Kathryn holds a Bachelor of Music degree in Voice Performance and a Master of Music degree in Music Education, specializing in Choral Conducting.She is a director with the Youth Singers of Calgary, a large show choir and concert choir organization. She is also currently the director of the University of Calgary Chorus at a the School of Creative and Performing Arts in Calgary, Alberta.  In addition to her private music studio, she is a frequent adjudicator and clinician for several schools and music festivals in and around Alberta. Several of Kathryn's choral pieces are published with Cypress Choral Music and Alliance Music Publications. 
A Little Brighter
by Kathryn Parrotta
SATB with piano    –    CP 1421   – 5:15
Kathryn poses several timeless questions and then answers, "Because He chooses His stars to share all their light.  Isn't the sky a little brighter tonight?" Written for Kathryn's fine youth choir, this song works in any season of the year.
In the Bleak Midwinter
arr. Kathryn Parrotta
SSAATB    –    CP 1144   – 2:55  


Kathryn Parrotta brings a warm, slightly "pop" feel to this traditional carol by Rosetti/Holst. The choral background provides a smooth (cool, but not cold) background for the soloist – soprano, alto, tenor, or baritone. Good for high school jazz choir. 
Carry Me Away
by Kathryn Parrotta
SA and piano    –    CP 1331   – 3:55
This a a beautiful song for treble voices – about flying!
My choir used the imagery and sensation of flying in a dream above our beautiful earth and also the feeling of reaching the top of a roller coaster climb – before the big drop. This sensory teaching helped to achieve feelings of freedom and anticipation.  We discussed the lyrics and how they apply to their own life situations; the fear of flying alone, the will to try, and the desire to achieve.   KP