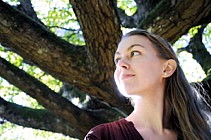 Katerina Gimon (b. 1993) is an award-winning Canadian composer whose dynamic, poignant, and eclectic compositional style has earned her a reputation as a distinctive voice in contemporary Canadian choral composition and beyond. Her music has been described as "sheer radiance" (Campbell River Mirror), "imbued…with human emotion" (San Diego Story), and capable of taking listeners on a "fascinating journey of textural discovery" (Ludwig Van). In her compositions, she draws inspiration from a myriad of places — from the Ukrainian folk music of her heritage to indie rock, as well as from her roots as a songwriter. Her compositions are performed widely across Canada, the United States, and internationally, and has been featured at prominent events such as the World Symposium on Choral Music, ACDA National and Regional Conferences, and Podium Conference. Katerina is the composer-in-residence for upper voices choir Myriad Ensemble and is based in Metro Vancouver, British Columbia. www.katerinagimon.com
All Together We Are Love
by  Katerina Gimon
SSA   –   CP 1614   –  duration 3:25
SATB   –   CP 1893   –  duration 3:25
This upbeat work, commissioned by Elektra Women's Choir for their 2017 Choral Leadership Workshop for Young Women, relays a simple and important message — that all together we make the world more beautiful place. It is suitable for choirs of all ages, and with a short, reflective, aleatoric section it might give some singers their first taste of this technique.
I am a song for all hearts
and when our spirits soar
All together we are love
ELEMENTS: (COMPLETE SET OF FOUR) 1) EARTH 2) AIR 3) FIRE 4) WATER
by  Katerina Gimon
SATB a cappella – CP 1498 (COMPLETE SET) –  duration 12:10
note that each movement is available separately (below). "Fire" is very popular.
SSAA a cappella – CP 1795 (COMPLETE SET) –  duration 12:10

This exciting composition is the first addition to the Vancouver Youth Choir Series.
Elements was composed in 2013 and premiered in March 2014 by Laurier Singers under Lee Willingham. This set of works abstractly depicts the four classical elements and explores the wide range of capabilities of the human voice – from overtone singing, to vocal percussion, to colourful vocal timbres. This set of works is a 2016 SOCAN Young Composers Competition Winner, 2015 Vancouver Chamber Choir' Young Composers' Competition winner, and a 2014 IAWM Search For New Music winner.
Elements - EARTH - (first movement)
by  Katerina Gimon
SATB  –   CP 1499   – duration 5:35
Earth is a beautiful, texturally-driven work depicting the simple yet unexplainable beauty of the earth. The work features harmonic overtone singing by a group of soloists; an accessible introduction to overtone singing in a choral setting. Earth is the first piece in a set of four SATB works called Elements.
earth
calm, constant
sturdy, still, steady
rock, sand, soil, and terrain
earth 
Elements - AIR - (second movement)
by  Katerina Gimon
SATB  –   CP 1500   – duration 1:10
Air traces the movement from calm breath to thick violent winds. Together singers gradually introduce new sounds and pitches, building an intricate texture with ever-shifting emphasis. The second piece in a set of four SATB works called Elements.
air
wind, breath
free, dynamic, transparent
moving, flowing, changing, and fuelling
air
Elements - FIRE - (third movement)
by  Katerina Gimon
SATB – CP 1451   – duration 1:35
SSAA – CP 1635
TTBB – CP 2005
Fire is a fun, lively and energetic work incorporating vocal percussion, body percussion, nasal singing, calls, nonsense syllables, as well as optional percussion. Fire is the third piece in a set of four SATB works called Elements.
fire
heat, light
strength, fuel, drive
burning, melting, evaporating, and transforming
fire 
Elements - WATER - (fourth movement)
by  Katerina Gimon
SATB  –   CP 1501   – duration 3:50
Water presents powerful soaring textures, and lilting melodies that grow and decay like waves in the water. Water is the fourth and final piece the set SATB works called Elements.
water
growth, change
deep, reflective, fluid
flowing, connecting, nourishing, and cleansing
water
HERON - from "The Lost Words"
by  Katerina Gimon
SSAA with piano – CP 2196   – duration 3:05
Heron beautifully captures the rega/ity, tranquility, and power of this majestic bird. The poem's use ofalliteration, repetition, rhythm, and clever wordplay are some ofmy favourite features and aid in carefully depicting the meditative stillness and eventual sudden flight of the heron.
When the most recent edition of the Oxford Junior Dictionary – widely used in schools around the world – was published, a sharp-eyed reader soon noticed that around forty common words concerning nature had been dropped. The words were no longer being used enough by children to merit their place in the dictionary. The list of these "lost words" included acorn, adder, bluebell, dandelion, fern, heron, kingfisher, newt, otter, and willow. Among the words taking their place were attach-ment, blog, broadband, bullet-point, cut-and-paste, and voice-mail. The news of these substitutions – the outdoor and natural being displaced by the indoor and virtual – became seen by many as a powerful sign of the growing gulf between childhood and the natural world.
In response, Robert Macfarlane and Jackie Morris set out to make a "spell book" that would conjure back twenty of these lost words, and the beings they name, from acorn to wren.
Morna Edmundson, Elektra Women's Choir director, decided to commission 10 composers to write 2 compositions each – 20 compositions set to the poetry of Robert Macfarlane – and a fabulous concert program was born (premiered in 2022). These pieces are available individually and also as a complete book. They can be performed with piano alone or with instrumentation; flute/piccolo, violin, cello, clarinet/bass clarinet and marimba/percussion.
IVY - from "The Lost Words"
by  Katerina Gimon
SSAA with piano – CP 2197  – duration :53
Although this is one of the shorter spells in this collection, I was immediately draw in by the poem's very playful tone and its personification of Ivy ("I am ivy"). Musically, I was interested in exploring how the "voice" of ivy might sound twisting and climbing up higher and higher.
Song for the Searching
by  Katerina Gimon
SSA  –  CP 1881  – duration 5:10
SSAB  –  CP 1882  – duration 5:10
An anthem about the power of singing as part of a collective and building a legacy through song.
Growing up, my home away from home was with the Hamilton Children's Choir — a remarkable community that taught me the power of the collective voice and ultimately inspired me to pursue music as a career. And so, I was absolutely delighted when approached by the HCC to create a song for their 45th anniversary. Together with Lauren (a fellow HCC alumna), we aimed to create a song that captured the spirit of the organization we once called home — a song about the power of the collective voice and building legacy through song, something anyone who has sung in a choir knows well. We hope in singing our song and including your own reflections (overtop the piano interlude) you can celebrate your own choir family and the beauty you have built together.  K.G.
Spellbound
by  Katerina Gimon
SSAA  –   CP 1793   – duration 3:30
percussion parts – available upon request (gratis)
Inspired by the mystery, beauty, and grandiosity of the night sky, Spellbound tells the story of a group of mischievous young stars. As each star awakes to the universe and discovers the power of their light, they begin to dance and swirl in the sky, drawing in the gazes of those on Earth.  Their movement creates patterns in the sky as, together, they form a new constellation. Onlookers become spellbound by their beauty as they illuminate the night.
Spellbound received its staged premiere on July 16, 2019 at the 7th World Youth & Children's Choir Festival's in Hong Kong. It was commissioned by the Hamilton Children's Choir through the support of a generous grant from the Canada Council for the Arts.
To the Peak of the Mountain
by  Katerina Gimon
SATB  –   CP 1784   – duration 3:25
"To the Peak of the Mountain" combines folk-like melodies, explorative textures, and driving rhythms to create an anthem about growth and perseverance. This work was commissioned by the University of Montana for the 2019 of M All-Star Choir Festival and premiered January 20, 2019 by the 2019 All-Star Choir and U of M Chamber Singers in Dennison Theater (Missoula, Montana).
Come away, away now! To the mountain away.
On a path through a forest of endless green