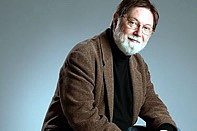 Jon Washburn (b. 1942) is the longtime Conductor and Artistic Director of the Vancouver Chamber Choir. Well known internationally for his mastery of choral technique and interpretation, he travels widely as guest conductor, lecturer, clinician and master teacher. He is also an active composer, arranger and editor and has had many compositions published, performed and recorded around the world. In 2001 Mr. Washburn was named a Member of the Order of Canada (the nation's highest civilian honour) and in 2002 received Queen Elizabeth's Golden Jubilee Medal for his lifetime contribution to Canadian choral art.
A DYLAN THOMAS CHRISTMAS
by Jon Washburn
SATB a cappella – complete book – CP 1654   – 41:30  


Narration booklet – (the prose of Dylan Thomas) – sent via PDF
Choirs looking for the perfect half to their Christmas program will find this option very attractive. The music is lovely and eminently singable for any choir. Jon has arranged eleven familiar Christmas carols to accompany the reading of the Dylan Thomas classic – "A Child's Christmas in Wales".  The mood created is delicious. Listen below to learn how the narration works with the singing. The Vancouver Chamber Choir had the reader (of Welsh descent) read from an arm-chair under a lamp, stage left, on a slightly elevated platform – very effective! The choral score is marked with narration cues – and the narrator's script is marked with choir cues. Everything flows as smoothly as a sled over snow.
The Vancouver Chamber Choir, called "Canada's jewel in the crown of choral singing", recorded the entire work complete with narration under Jon's direction. Give it a listen! – just click on a title. The CD is available for purchase.  (click here if interested)
1) Still, still, still – 4:00 – also available separately – CP 1650 – – – see below
2) Fum, fum, fum – 1:30
3) The Huron Carol – 2:15
4) See amid the winter snow – 2:30 – also available separately – CP 1658 – – – see below
5) Ding, dong, merrily on high – 1:30
6) O Christmas tree – 2:00
7) God rest ye merry, gentlemen – 1:00
8) O little town of Bethlehem – 1:45
9) Here we come a-caroling – 1:15
10) Patapan – 1:30 – also available separately – CP 1657 – – – see below
11) Silent night – 3:30   click here to listen
Akatonbo
arr. Jon Washburn
SATB a cappella   – CP 1750   –  3:40 
This arrangement of Kosaku Yamada's popular children's song Akatonbo (Red Dragonfly) was composed by Jon Washburn for the Vancouver Chamber Choir's third tour of Japan in 2009, when it was sung for the Emperor and Empress in a private concert at the Canadian embassy in Tokyo. 
Akatonbo is a song for the autumn season. The sunset and dragonfly reminded the poet, Rofu Miki, of his childhood and how much he had missed his sister, who had married and moved away from her home and family. Jon Washburn has treated the piece as a choral fantasy, separating the several phrases of the melody with wordless polyphonic lines which express the deep feelings which the simple words evoke.

Still, Still, Still - from a Dylan Thomas Christmas
by Jon Washburn
SATB a cappella – CP 1650   – 4:50  

See Amid the Winter Snow - from a Dylan Thomas Christmas
by Jon Washburn
SATB a cappella –  CP 1658   – 2:30  

Patapan - from a Dylan Thomas Christmas
by Jon Washburn
SATB a cappella  –   CP 1657   – 1:30