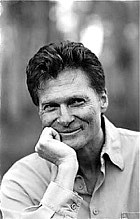 JD Martin (b. 1947) is a multi award-winning songwriter who lives in the mountains of Colorado with his wife and musical partner, Jan Garrett.  In the course of his very satisfying musical career he has written 5 Number One and 10 Top Ten singles, recorded by such luminaries as Reba McEntire, the Oak Ridge Boys, Peter Cetera, and BJ Thomas.  In 2001, after 20 years of writing for other artists in Nashville and Los Angeles, he released his first solo CD, One Heart, an inspired collection of original songs featuring his soulful voice and a musical style ranging somewhere between the best of Marc Cohen and Michael McDonald. 
Since 2003 JD and Jan have collaborated on 4 CDs of original songs: I Dreamed of Rain, Already Home, No Complaints Whatsoever and Inside the Songwriters' Studio.  The Positive Music Association has awarded their albums its seal of excellence, and they have also received awards from the Indie International Songwriting competition.  From 2006 through 2012, they received top honors at emPower Music & Arts' Positive Music Awards. Jan and JD are currently performing and teaching around the world. Visit JD Martin's website.
Lord, Help Us Live in Peace
by J.D. Martin,  arr. Larry Nickel  
SATB    a cappella  –    CP 1230   – 2:25
This lovely user-friendly anthem goes straight to the heart. It is ideal for use in the church, Christmas programs, graduation ceremonies and any time people need to be reminded to live in unity.
No Complaints, Whatsoever
by J.D. Martin and Jan Garrett, arr. Larry Nickel
SATB with piano    –    CP 1201   – 4:25
Award winning songwriters, Jan Garrett and JD Martin, have written a barn burner gospel number about looking on the bright side of life – amidst the trials we all face. Singers and audiences will be smiling and reflecting on their good fortunes! With solid approachable harmonies, this piece would make a welcome addition to any concert program.
The Spaces in Between Us
by J.D. Martin, Jan Garrett, Lisa Aschmann, arr. Larry Nickel   
SATB with piano    –    CP 1259   – 4:15
A beautiful melody and poignant harmonies carry a haunting text about relationships. Please give it a listen!
composer note from Janet: Constant sensory overload:  Tweets, blogs, spam, 24-hour news cycles, everyone and everything crammed into the already too-muchness of our lives.  What we long for is space.  A breath.  The lovely voluptuous emptiness that gives rise to all that is….the silence before and after the sound.This song takes the singers and the audience directly into that familiar feeling.  And like a timeless breath of fresh air, the voices and the music breathe us gently into an open sense of appreciation and possibility: The Spaces in Between Us.