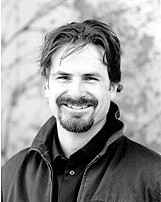 A native of Saltspring Island, British Columbia, Craig Galbraith (b. 1975) is one of Canada's exciting young composers. He has won awards including the Karen Keiser Prize in Canadian New Music and first prize in SOCAN's Hugh Le Caine Award, for an electroacoustic work, Silhouette.  He was also a prize winner in CBC's National Competition for Young Composers, and received its People's Choice award. He sits on the Artistic Directorship of the Canadian Contemporary Music Workshop (CCMW), an entity dedicated to promoting emerging composers. 
Galbraith's music has been performed by many distinguished artists and has been broadcast frequently on CBC radio.  He has received numerous prestigious commissions, including those for the Elmer Iseler Singers and Estonian Philharmonic Chamber Choir, the Gryphon Trio, and musica intima.  He is currently completing a doctorate in composition at the University of Toronto.
Tum Balalaika
arr. Craig Galbraith
SATB  –   CP 1077   – 1:55
A traditional arrangement of this favorite Yiddish folksong, Craig has also provided suggestions for alternate performances. Your choir will have fun making the sounds of the Balalaika. Tum Balalaika is an old traditional Yiddish song from Russia or Poland. It is a love song about finding a clever wife who knows answers to all questions.