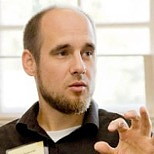 Wendell Glick is a freelance composer, choir director and music instructor based in Waterloo, ON, and holds degrees in music composition from Wilfrid Laurier University (BMus), the University of Toronto (MMus), and Western University (PhD).  While his compositional output ranges from vocal and instrumental chamber works to orchestral and electroacoustic compositions, his particular area of interest is unaccompanied hymns and choral music.  Wendell's compositions and choral arrangements have been performed by middle school, high school, college, community and touring ensembles in more than 20 states and provinces, as well as in Ireland, England, Scotland, Poland and Jamaica.  In addition to composing and conducting, Wendell enjoys model trains, tree houses, aviation, rainy days, and life with his best friend Janelle and their lively children.
Out in the Fields with God
by  Wendell Glick  
SATB a cappella  –   CP 1482   – 2:25
Elizabeth Browning wrote the poem and Wendell Glick gave it an exquisite setting. 
We all encounter the stresses of day to day living – which can often bring us down. But by keeping our faith we can find light in the darkness, hope in the midst of despair, love in the midst of hatred and success in the midst of failure. This composition expresses the inspiration we can receive from the nature God has created for us.