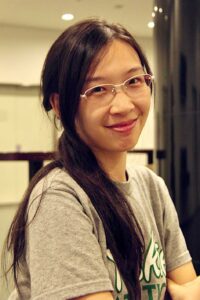 Wei Cui is a Chinese composer who was residing in Montreal when Cypress discovered her. Before moving to Canada, she formerly taught composition at Tianjin Normal University and worked as a composer-in-residence of Peiyang Chorus. Her complete catalog includes music for choir, chamber ensemble, and orchestra.
Cui has been dedicated to exploring the expressional and theatrical potential of multicultural rhetoric in choral music. Her music has been commissioned or premiered by many renowned ensembles such as Sydney Children's Choir, Gaia Philharmonic Choir of Tokyo, Peiyang Chorus, Guangdong Experimental High School Choir, Beijing Symphony Orchestra, and McGill Symphony Orchestra. The music of Cui has made its worldwide appearance at numerous international festivals and competitions, including Polyfollia, Tolosa Choral Con, World Choir Games, and International Choir Competition Maastricht.
Cui was an adjudicator of the 2015 World Youth and Children's Choir Festival in Hong Kong. In the same year, she was awarded the Jebsen and Co. Choral Arts Youth Scholarship to recognize her outstanding contribution to the contemporary Chinese choral repertory.
Blue Sky
by Wei Cui
SSA a cappella – CP 1936 – duration 4:35
This stunning composition was written in 2014.  The Shanghai Spring Children's Choir gave a wonderful performance (please listen).  Wei says, "With this composition I hope to arouse people's consciousness of environmental protection". This pertinent message is expressed simply and clearly with pentatonic sonorities. The lyrics includes both non-lexical vocables and sentences in Mandarin, which repeat often enough for all singers to learn quickly. We feature a very approachable speech tutorial.