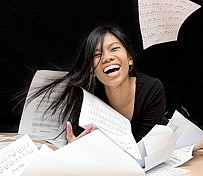 Tracy Wong (b. 1983) hails from Malaysia and is a choral conductor, music educator, vocalist, and pianist. She is completing a Doctor in Musical Arts (Choral Conducting) degree at the University of Toronto under the tutelage of Dr. Hilary Apfelstadt after obtaining a Master in Music Performance (Choral Conducting) at the same institution. At the Faculty of Music, she is the Co-Conductor of the Women's Chorus (2015-16, 2017-18). She is also a proud recipient of the Elmer Iseler National Graduate Fellowship in Choral Conducting (2016, 2017). Tracy's choral works have been published and performed by Malaysian, Canadian, European, and American choirs at international competitions and festivals. She has also recently completed the compilation of Canadian composer Nancy Telfer's choral compositions, a resource for music educators and choral directors.
Ikan Kekek
by Tracy Wong
SSAA – a cappella    $2.35    CP 1618  duration – 2:30SATB – a cappella    $2.35    CP 1643
"Ikan Kekek" is about a fish, and a whole lot more! As with children's songs from other countries, Malaysian children's songs consist of  simple, catchy, and repetitive melodies. These tunes are usually lively and festive. They often either tell a story, bear advice for young people, or are humorously written and purely meant to entertain. This popular children's song from Malaysia covers them all and is arranged for SSAA / SATB choir and percussion.
Percussion available (sent via PDF) upon request
Rasa Nusantara
by Tracy Wong
SSAA – a cappella    $2.50    CP 1631  duration – 4:00
A joyful medley of four Malaysian folk dances. Listen to Tracy sing it herself while you study the score.
Easy, rhythmic and crowd pleasing!
Percussion available (sent via PDF) upon request
Wau Bulan
by Tracy Wong
SA – a cappella $2.25 CP 1537 duration – 2:50
SAB – a cappella $2.25 CP 1608
This classic and upbeat Malaysian folk song is about flying kites! It is usually sung while seated on the floor and while performing synchronized-choreographed movements and hand claps. This pentatonic melody can be adapted to suit choirs at all levels and makes for a colorful opening or closing of any concert.