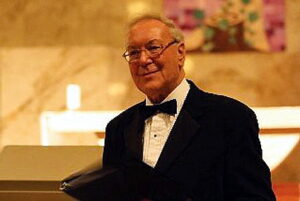 After training as a music educator in England, Terry Hurrell and his wife, Stephanie, came to Nova Scotia in 1967, and he became deeply involved in the music scene. An educator, innovator, music director and vocalist, Terry found his niche in choral music. He has been the founding music director of such diverse groups as the Lockeport Male Choir, Liverpool Boys' Choir, Halifax Boys Honour Choir, Queens County Community Choir, Nova Scotia Youth Chamber Choir and two church handbell choirs. He is also an Honorary Life Member of the Nova Scotia Music Educators' Association.
Terry is the founding Artistic Director of Nova Voce, Nova Scotia's provincial men's choir, a choir that was started with the help of Diane Loomer of Chor Leoni in 2004. On retirement, Terry became Artistic Director Emeritus of Nova Voce.  He is currently the conductor of the Jubilate Singers Community Choir and often writes or arranges choral music for the many choirs with which he has been involved over the years.
Entre le boeuf et l'âne gris - (Here Mid the Ass and Oxen Mild)
arr. Terry Hurrell
SATB – with piano – KH 030 – duration 2:10   


SATB – a cappella –  KH 030B
Long flowing melismas, question and answer phrases, and intuitive voice leading make this lovely lullaby approachable for any mixed choir.
Choirs can sing the original French lyrics or opt for the English text.
My Lord, What a Morning! (Good News Medley)
arr. Terry Hurrell
TTBB – a cappella – CP 1905 – duration 3:30
O, my Lord, what a morning!
When the stars begin to fall.
Polish Lullaby
arr. Terry Hurrell
TTBB – a cappella – CP 1905 – duration 3:25   

Gorgeous and approachable, men's choirs will love this arrangement. Listen to the lovely recording by Nova Voce. Note that the listening page includes a pronunciation guide.
Scottish Airs
arr. Terry Hurrell
TTBB – with piano – CP 1916 – duration 3:45
Men's choirs will enjoy this medley of an energetic Scottish war song (Scots Wha Hae, with raucous bagpipe imitation and a wide range of dynamics, followed by a quiet lilting taste of the Skye Boat Song.  Interest at the end is maintained by a meeting of the clans, using partner songs: Will Ye No Come Back Again? and Scotland the Brave, each sung by different parts of the choir, as two clans come together from neighbouring glens.  The coda is a pianissimo invitation to visit Scotland again.