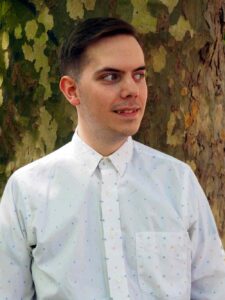 Stuart Beatch (b. 1991) is a Canadian choral composer currently living in Edmonton, Alberta. He is the composer-in-residence for The Fourth Choir (an LGBT chamber choir in London, UK), and recently completed graduate studies at King's College London under Rob Keeley, having previously studied composition at the University of Alberta and music education at the University of Regina. In 2016, Beatch was selected to participate in the Theoartistry programme at the University of St Andrews, where he was mentored by Scottish composer Sir James MacMillan. More recently, he was accepted into the inaugural Choral Arts programme at the Banff Centre for Arts and Creativity, where he studied with the Latvian composer Uģis Prauliņš. While Beatch has a special affinity for the Canadian choral community, his music has frequently been performed by ensembles across North America and the UK, including the BBC Singers, the National Youth Choir of Canada, Pro Coro Canada, the Chronos Vocal Ensemble, the Elysian Singers, musica intima, the Toronto Mendelssohn Choir, and the Choral Arts Initiative. visit Stuart's website: stuartbeatch.com
Joy Will Lead You
by Stuart Beatch
poem: Dominic Gregorio
SATB with piano – CP 2067 – duration 5:55
SAB, SSAA, SSA, SA and TBB available upon request
In the fall of 2012, when Dr. Dominic Gregorio began his position at the University of Regina, I was in my final year of an education degree—feeling lost and unfulfilled, wanting to pursue composition but stuck on a predetermined career path and suddenly feeling trapped. In Dom's first year at the university, he launched a composition competition, which enabled the performances of my very first choral works—and set me down the path of specializing in choral music, a path I've continued to follow for the past seven years. When news spread of his passing in early 2019, I was shocked and confused. Dom was, to so many people, an embodiment of life and joy, and the community—both in Regina and across Canada—was shaken by his sudden loss. When I was approached by Tim Friesen to compose a work in Dom's memory, I knew this was a project I needed to take on. The text, a poem about always following your passions, seems even more poignant given Dom's own influence in helping me pursue my dreams, and I hope this piece holds meaning for every person who continues to be touched by his life.
and thus is your love so magnified
it grows bigger stronger brighter, let's recognize
how by practicing delight you've clarified
you're now your grea highest you, you're so alive
so cultivate delight, for this is Life's great clue
Joy will lead you to your true authentic you
The Letter
by Stuart Beatch
SATB a cappella – CP 1898 – duration 3:05
This emotional piece is an urgent plea for LGBT rights and acceptance, setting an anonymous letter from a gay man read in UK Parliament in the 1950s. Audiences will be moved by these heartfelt words and sensitive music, which touches on a social issue not often addressed in choral music. Any person who has ever felt marginalized will identify with this poignant song.
People have no idea of the life of fear and dread we live.
I want them to look upon this debate with kindness and sympathy,
and think, "There, but for the grace of God, go I."
Love, love it was, that made my eyes delight
To have his person ever in my sight.
I do not pretend that I am good
but I am like many.
My Mother's Body
by Stuart Beatch
SATB a cappella – CP  1903 – duration 3:20
This piece was commissioned by Pro Coro Canada in July 2020 as part of an initiative to create new choral works for the Edmonton community, providing local choristers with the opportunity to continue to sing from home. In searching for texts, I was immediately struck by the titular poem: "My Mother's Body", by Kelowna-based Zara Neukom. Neukom evokes an image of her mother that is otherworldly and frozen in time, and yet undeniably coloured by grief. In my setting of this poem, I try to capture the joy and beauty of this "white-haired goddess" with richness and vibrant colour.
Ravens lift, weightless in the updraft 
snow dusts clay like flour on a stone surface. 
My mother, white-haired goddess on thin legs 
watches the wind-players and laughs with them.
Your Stars to Hold
by Stuart Beatch
SATB a cappella – CP  2090 – duration 3:55
This piece was written in December 2019 as a Christmas gift for Christopher Hawn. The text, by American poet Sara Teasdale, depicts love as an act of comfort and assurance, using cosmic imagery to express the profound safety found in the arms of a loved one. My music tries to capture this warmth through a lush harmonic language and thick choral textures, culminating in a simple repetition of the titular line—suddenly inward and intimate, as if gently whispered. "Your Stars to Hold" won the 2019 Composition Competition by Chronos Vocal Ensemble, and was first performed in Edmonton in November 2021.
Peace flows into me 
As the tide to the pool by the shore; 
It is mine forevermore, 
It ebbs not back like the sea. 
I am the pool of blue 
That worships the vivid sky; 
My hopes were heaven-high, 
They are all fulfilled in you. 
I am the pool of gold 
When sunset burns and dies– 
You are my deepening skies, 
Give me your stars to hold.
Sara Teasdale (1884-1933)