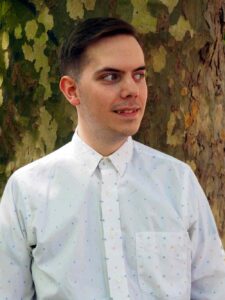 Stuart Beatch (b. 1991) is a Canadian choral composer currently living in Edmonton, Alberta. He is the composer-in-residence for The Fourth Choir (an LGBT chamber choir in London, UK), and recently completed graduate studies at King's College London under Rob Keeley, having previously studied composition at the University of Alberta and music education at the University of Regina. In 2016, Beatch was selected to participate in the Theoartistry programme at the University of St Andrews, where he was mentored by Scottish composer Sir James MacMillan. More recently, he was accepted into the inaugural Choral Arts programme at the Banff Centre for Arts and Creativity, where he studied with the Latvian composer Uģis Prauliņš. While Beatch has a special affinity for the Canadian choral community, his music has frequently been performed by ensembles across North America and the UK, including the BBC Singers, the National Youth Choir of Canada, Pro Coro Canada, the Chronos Vocal Ensemble, the Elysian Singers, musica intima, the Toronto Mendelssohn Choir, and the Choral Arts Initiative. visit Stuart's website: stuartbeatch.com
The Letter
by Stuart Beatch
SATB a cappella – CP 1898 – duration 3:05
This emotional piece is an urgent plea for LGBT rights and acceptance, setting an anonymous letter from a gay man read in UK Parliament in the 1950s. Audiences will be moved by these heartfelt words and sensitive music, which touches on a social issue not often addressed in choral music. Any person who has ever felt marginalized will identify with this poignant song.
People have no idea of the life of fear and dread we live.
I want them to look upon this debate with kindness and sympathy,
and think, "There, but for the grace of God, go I."
Love, love it was, that made my eyes delight
To have his person ever in my sight.
I do not pretend that I am good
but I am like many.
My Mother's Body
by Stuart Beatch
SATB a cappella – CP  1903 – duration 3:20
This piece was commissioned by Pro Coro Canada in July 2020 as part of an initiative to create new choral works for the Edmonton community, providing local choristers with the opportunity to continue to sing from home. In searching for texts, I was immediately struck by the titular poem: "My Mother's Body", by Kelowna-based Zara Neukom. Neukom evokes an image of her mother that is otherworldly and frozen in time, and yet undeniably coloured by grief. In my setting of this poem, I try to capture the joy and beauty of this "white-haired goddess" with richness and vibrant colour.
Ravens lift, weightless in the updraft 
snow dusts clay like flour on a stone surface. 
My mother, white-haired goddess on thin legs 
watches the wind-players and laughs with them.