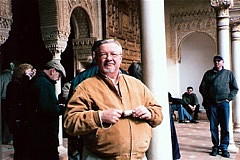 Steve Murray (b. 1939) studied theory and composition with Eugene Hill at Miami University, Oxford, Ohio and with Donald Freund at the University of Memphis.  Among other genres, his interest in jazz has informed his compositional and arranging styles throughout his career.  His works include solo vocal, choral, instrumental chamber and orchestral music as well as works for music theatre.  He is published in the U.S. and Canada.  He was the recipient of the grand prize in the Harmonia Choir Composition Con, Ottawa; in 2008 he was awarded  the grand prize in the Vaughan Williams Choral Composition Con, Yorkshire, UK; and in 2010, he was co-winner of the New England Choral Composition Con, Somerville, MA.   Steve lives in western Massachusetts and teaches theory and composition at Berkshire Community College.
O Proud Left Foot
by Steve Murray
SATB    –   CP 1131   – 1:10
Who amongst us could forget the famous "Hokey Pokey" and it's Shakespearean parody "O Proud Left Foot"? With magical approach Steve Murray has set this whimsical semi-sonnet in an engaging a cappella Madrigal setting for SATB choir.