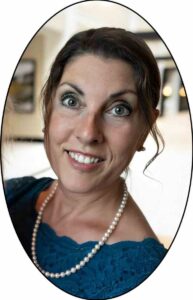 Stella Claire terHart is a well-known Canadian composer, educator, adjudicator and director. She was born and raised in the small rural prairie town of Estevan, Saskatchewan and studied with Mary Murakami (Estevan), William Moore (Regina), Lyell Gustin (Saskatoon), Robin Harrison (Saskatoon), and Marilyn Engle (Calgary). She is the only individual in Canada, to date, to have been awarded all four available diplomas from the Toronto Conservatory of Music: piano pedagogy, piano performance, composition, and theory. Stella is a widely sought after adjudicator and has brought her fun and unique interactive adjudicating skills to numerous music festivals in Ontario, New Brunswick, Nova Scotia, Prince Edward Island and Newfoundland.
While living and working in New Brunswick, Stella was the Head of Music at Rothesay Netherwood Private School in St. John, where she developed their entire music program, directed the Junior, Senior and Jazz Bands as well as the Girls Choir, Swing Choir, Young Men's Choir and began the tradition of the school's Annual Musical. For over 10 years Stella was a member of the Toronto Conservatory College of Examiners in the Theory and History Department. Her compositions have won awards in Canada, the United States and New Zealand and been performed worldwide.
Our World is Full of Colours
by Stella terHart
SSA with piano and percussion – CP 1954 – 2:00
Yellow is for sunshine that brightens up my day
White is a cloud drifting far, far away
Brown is the Earth below, soft on my feet
Blue is for the sky above, like a blanket on the world
 Colour all around, everywhere I see colour for me
Composer Notes
I wrote this piece specifically with young singers and children's choirs in mind. The range, melody, key and rhythms are all easily within the limits and experience of elementary and middle school groups. Musical elements are reinforced through repetition without the piece sounding mechanical or boring. The easy, hand-held percussion adds fun and flair and doesn't need to be exactly as written, but does need to stop/start as indicated.
The lyrics have more to them than just "this is that colour and that is another colour." Encourage students to discover and discuss the deeper meaning behind the words.
Variations and Performance Suggestions
– sing the top line only as a unison piece for very young groups
– place the two parts physically apart (one on the left and one on the right) to create a fun, antiophonal effect, very appropriate for the "echo like" second verse.
– showcase two choirs, a younger choir on the main (Part 1) melody and an older choir on the Part 2 counter-melody