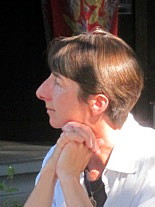 Sheila Wright (b. 1961) is from small town Alberta where she received her first music training from her mother and continued studying as a pianist at the Universities of Alberta and Victoria and at the Banff Centre for the Arts.  She has worked as a pianist and composer in concert halls, churches, ballet studios, theatres and a hotel in the Yukon. Sheila resides in Edmonton, Albert where she teaches piano and composition out of her own studio and plays and composes for a number of children's choirs. For her, the art of music education is a continual source of fascination.
Be Like a Bird
by Sheila Wright 
SSA    –    CP 1191   – duration 4:05
This vibrant composition was commissioned for the 50th Anniversary of the Alberta Choral Federation and premiered at the Alberta Children's Choir Gala Concert in 2012.  It was also a big hit at the British Columbia Choral Federation gala event in 2013.
"Each of the three movements is really a miniature with a central musical idea and individual style.  The intention was to emulate art song in the sense of a true partnership between the voices and piano, and an emphasis on as tight a relationship between the music and text as possible: the delicacy of the Humming Bird, the profound grief of the Widow Bird, the bold joy of Be Like a Bird.  Stylistically, the pieces loosely reference, (in order), early 20th century impressionism, 19th century romanticism and 1970's funk.  Most importantly, I have tried to create music for children that they will love to sing; that appeals to their voices and imaginations."  Sheila