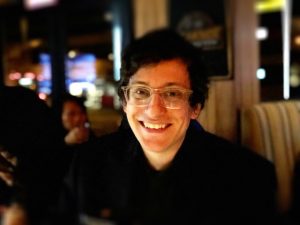 Sam Dabrusin specializes in a cappella arrangements and compositions, in styles varying from classical and jazz to barbershop and indie rock. Based in Vancouver, Sam has been commissioned for arrangements from quartets and choruses across Canada. His radio jingles have been heard on both C-FOX and CiTR. Sam currently sings with the Vancouver Cantata Singers, the Shaughnessy Heights United Church Choir, The Squares barbershop chorus, and The Hot Teas contemporary a cappella ensemble, and acts as co-director for the latter two groups.
Coventry Carol
arr. Sam Dabrusin
SATB a cappella  –  CP 1758   – 3:08
Check out the out the sumptuous treatment given to this famous plaintive carol. Sophisticated and lush harmonies are easy to sing with Sam's voice leading skills. Listen to the premiere performance by the Vancouver Cantata Singers (one of Canada's finest choirs).
The Monkeys Lost Their Keys
by Sam Dabrusin
SATB a cappella  –  CP 1868   – duration 2:45
Sam is up to his usual mischief and monkey-business with this clever choral composition.  The poem by Duncan Shields is hilarious with witty puns and invented words.