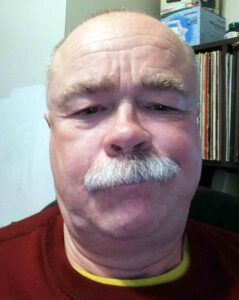 Roderick McAvoy began piano study at the age of 6, and organ at 16. He has a degree in Organ Performance from the University of Western Ontario, and a Masters of Divinity from Trinity College, Toronto, where he was also Organ Scholar. In 1976 he won the Summer Institute of Church Music's organ competition. He has been the part-time Director of Music at St. Peter's Anglican Church, Cobourg Ontario, and is the composer of over 30 works for choir, organ and solo voice as well as settings of Eucharistic and other liturgical texts. 
I Saw Three Ships
arr. Roderick McAvoy
SATB with piano and instrument  – KH 049 – duration 1:55
This composition really sparkles – a festive jig in 6/8 time!
This music can be adapted in order to work with whatever resources are available. For example: a) it could be sung entirely in unison, a solution particularly appropriate for a children's choir; b) it could be sung by two antiphonal unison choruses (women/men, adults/children, etc), both of which join together at the end. The accompaniment was first written for piano, but might work on an organ with the left hand played on a Krummhorn or Dulzian to mimic bagpipe drones, and the right hand on a bright flute combination up to a I-foot stop. The solo instrument is optional, but would contrast better with piano than organ.