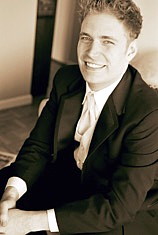 A computer scientist by trade, Robin Salkeld (b. 1983)  has a PhD candidate from the University of British Columbia, but has never been happy without music as a major part of his life. He began playing the piano at the age of five in his home town of Brampton, Ontario, eventually managing to balance his ARCT studies with his BSc at the University of Waterloo, while also training in composition and conducting. Enthusiastic about many forms of music, he draws inspiration from his years of jazz trombone, clarinet, and vocal performance, as well as modern folk, rock, alternative, and popular music. Robin currently resides in Vancouver, where he and his wife both sing in the Jubilate! vocal ensemble. Having only recently started to compose for adult choirs, Robin is thrilled and hopeful about contributing more to the choral repertoire in the future.
Hymn of Acxiom
by Vienna Teng, arr. Robin Salkeld
SATB a cappella – CP 1406 – duration 3:50
SSAA a cappella – CP 1668
The Acxiom Corporation fits into a category called database marketing. They have collected data on over 126 million households. This song is relevant although quite unnerving. Robin has given Vienna's song his trademark choral treatment. 
I Am Voyager
by Robin Salkeld
SATB    –    CP 1324   – 5:55
Inspired by the Voyager 1 space probe becoming the first human-made object ever to enter interstellar space. The lyrics include the Latin greeting the probe carries on its golden record as well as Robin's own words from the perspective of the probe itself. When this composition was premiered by the Jubilate Vocal Ensemble, many people in the audience were deeply moved. Listen to the recording, read the text, and travel through outer-space.    Robin
Song for a Winter's Night
Song for a Winter's Night by Gordon Lightfoot, arr.  Robin Salkeld
SATB – CP 1264   – duration 4:35 


SSAA – CP 1320    
TTBB – CP 2098
Gordon Lightfoot 's lovely song – about relationships, light in a dark place, a warm refuge in the cold – needed an exquisite setting and Robin really hit the mark with this a cappella arrangement.