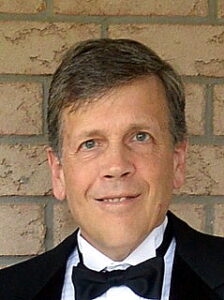 Robert Houghton (b. 1960) grew up in the Toronto area, studying piano from a young age.  He received his Bachelor of Music from the University of Toronto, and studied at the Banff School of Fine Arts and the Royal Conservatory of Toronto. Mr. Houghton continued his studies at the University of Illinois, receiving a Master of Science in Music Education and a Master of Music in Choral Conducting and Literature. During both these degrees he participated in the graduate programs in music composition.
Mr. Houghton is a retired high school music department head and taught instrumental and vocal music. He also conducted and church choirs, appearing regularly on television. He is a commissioned composer, arranger and orchestrator. His focus over the years has been writing music for children's choir and adult church choir accompanied by piano, often with orchestra.
Jesus, How Sweet the Very Thought
by Robert W. Houghton
SATB with piano – KH 057 – duration 5:15
Jesus, How Sweet the Very Thought
Giving true joy to our hearts
But sweeter than honey and all else
is His presence.
Nothing more melodious is ever sung
Nothing more delightful is every heard
Nothing sweeter is ever thought
Than Jesus, the Son of God.
There's a Smile Within Your Heart
by Robert W. Houghton
SATB with piano – KH 100 – duration 3:30
"There's A Smile Within Her Heart" was commissioned by the Waterloo District School Board Kodály Festival in memory of Nancy Buckland, a young music teacher  with the board who died unexpectedly in a car accident before the Festival. It was originally written to be sung by the Festival's two 500 member children's choirs in two parts. For this edition a tenor and baritone part have been added. This edition can be sung with sopranos alone, SA, SAB, and SATB.
Walk in the Light
by Robert W. Houghton
SATB with piano – KH 113 – duration 3:30
Slow gospel swing at its best!
Walk in the light – beautiful light
Come where the dew drops of mercy shine bright
Shine all around us by day and by night
Jesus, the light of the world.
He's shining, He's shining,
He's shining all over this world