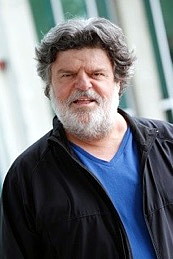 Born in Thetford-Mines, Québec, Réjean Marois moved to British Columbia in 1988. Earlier, he worked in Québec as a composer, arranger, trombonist, publisher and educator and performed all across North America and Europe. He conducted the wind ensemble, stage band and vocal jazz ensembles at Cegep Sainte-Foy, and was also appointed as the music director of community concert band at Thetford-Mines. In 1983 he was nominated for a Genie Award (Canadian Academy of Cinema) for his original soundtrack for the movie "Les Doux Aveux". Since 1988, he has been in demand throughout Canada and the U.S. as a clinician, adjudicator, conductor, music advisor and arranger. With the "Marois Music Publications", Réjean offers a collection of educational material for both elementary and secondary music programs. For the past decade, he has been busy as an arranger and conductor for the Cap Jazz Series' concerts featuring renowned jazz artists from around the world. Since 1988, he has been teaching Jazz Studies at Capilano University, conducting vocal jazz ensembles and jazz bands, and teaching various courses. In May 2012, he has received an «Award for Empowering Learning» from Capilano University.
Brought For Us So Low
by Réjean Marois   – 3:00
SATB  a cappella  –    CP 1877
Christina Rossetti is a favorite poet for composers. Réjean has shaped and directed the finest vocal jazz groups on the Canadian west-coast – and written a myriad of compositions for his singers. One will quickly hear those endearing harmonies in this new Christmas piece. The voice leading and sweet-spot registers will be approachable for any mixed choir.
Now is the Time to Love
by Réjean Marois   – 1:25
SATB  a cappella  –    CP 1228
This approachable a cappella composition is based on the words of King Solomon. It boarders on vocal jazz with interesting sonorities while sounding legitimately classical at the same time.
This choral gem is suitable any time of year and especially close to Valentine's Day.