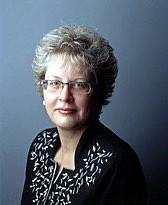 Vancouver-born Ramona Luengen (b. 1960) studied at UBC and went on to receive her Doctor of Music in Composition from the University of Toronto under Derek Holman and Harry Freedman. Having composed extensively in the choral genre, Ramona Luengen is privileged to have had her works performed and recorded in North America, Europe, Australia, New Zealand and Japan. Her compositions have been broadcast on CBC, BBC, WDR (Germany), and the national radio stations of Denmark, Hungary, Sweden, the Netherlands and Spain.
Luengen's Piano Concerto was premièred by Jane Coop and the CBC Radio Orchestra in 2006 to great critical and public acclaim. Her opera for young audiences, based on the Joy Kogawa novel Naomi's Road, received over 150 performances in schools and communities in British Columbia, Alberta and Washington State. Her large-scale Stabat Mater for women's choir, mezzo soprano solo and orchestra was named Choral-Event-of-the-Year and Composition-of-the-Year by the Association of Canadian Choral Conductors in 1996.
A sessional lecturer for twelve years at both the UBC and Simon Fraser University [1995-2007], Luengen taught a variety of courses in composition, counterpoint, theory, choir and 20th century music appreciation. As a choral conductor, Dr. Ramona Luengen is well respected in Canada for her work with the award-winning Phoenix Chamber Choir of which she has been the Artistic Director since 1995. She is also director of the Amabilis Singers and the Shaughnessy Heights United Church Choir.
How the Blossoms are Falling
by Ramona Luengen
SSAA    –    CP 1314   – 5:15
Ramona has given a exquisite setting to Joy Kogawa's poem and dedicated it to the late Diane Loomer. Listen to the quality recording by the Elektra Women's Choir. 
Mésange
by Ramona Luengen
SATB    –    CP 1047   – 3:00
Based on a French poem by Rainer Maria Rilke this piece replicates musically Rilke's intimacy with the reader, his careful attentiveness and his magical poetic transformation of what is often seen as a common bird. A very gentle, evocative setting, Mésange requires subtle shading and tenderness of tone.
Missa Brevis
by Ramona Luengen
SSAA    –    CP 1038   – 5:25
This short mass setting for unaccompanied women's or treble choir consists of Kyrie, Sanctus, and Agnus Dei. Although not technically demanding, the work requires sensitivity of phrasing and detailed attention to text and word stress. The heartfelt simplicity of expression underlines the inherent reverence and beauty of this liturgical text. Performance note: Missa Brevis can also be sung by a mixed chorus with tenors doubling sopranos and basses doubling altos.
Salve Regina
by Ramona Luengen
SSAA    –    CP 1010   – 4:30
One of the Catholic Church's four Marian antiphons, is set for unaccompanied women's choir and solo flute or solo soprano. With thick, luscious harmonies, this is a challenging piece of music, at times requiring 8-part divisi. The work requires a good sense of flow, attention to word stress and a convincing understanding of the pieces structure.
Tenebrae Factae Sunt
by Ramona Luengen
SATB    –    CP 1006   – 4:25
This is a challenging work for unaccompanied mixed chorus and alto solo. The biblical text refers to the last hours of Christ on the cross, when "darkness covered the earth." The work employs a relatively consonant yet contemporary harmonic language and requires controlled, dramatic and well-tuned ensemble singing.
Ubi Caritas
by Ramona Luengen
TTBB    –    CP 1036   – 4:55
This composition is a setting of the second verse of the beautiful Maundy Thursday text, Ubi Caritas. The works character and melodic structure is strongly based on chant and, as a result, requires a sensitive approach to subtle tempo changes, text and phrasing. Well-balanced sections are essential. After several climatic sections, the piece ends very simply and poignantly with a request for peace and understanding. Level: moderately difficult.