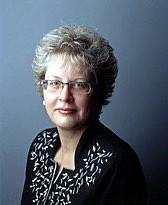 Vancouver-born Ramona Luengen (b. 1960) studied at UBC and went on to receive her Doctor of Music in Composition from the University of Toronto under Derek Holman and Harry Freedman. Having composed extensively in the choral genre, her works have been performed, recorded and broadcast in North America, Europe, Australia, New Zealand and Japan. Her large scale Stabat Mater was named Choral-Event-of-the-Year and Composition-of-the-Year by the Association of Canadian Choral Conductors. Naomi's Road, an opera for young audiences, has received over 350 performances in North America. 
Respected for her work as a composer, conductor and educator, Luengen is a recipient of the inaugural Vancouver Arts Award and the BC Choral Federation's Herbert Drost Award for distinguished service. She has twice been nominated for the YWCA's Women of Distinction Award, and was one of four Canadian women composers noted in The Cambridge Companion to Choral Music.
Autumn Glory
by Ramona Luengen
SATB with piano – CP 1873   – duration 4:30
This composition, written in memory of an exceptionally gifted yet humble soprano friend, was inspired by the lyrical poetry of Gregory Orr. The work requires sensitivity to text and a warm intimacy of expression. At m. 59, a suggestion of the stalwart hymn Blessed Assurance begins, eventually finding voice in an intentional gospel-style climax. The textual similarities ("This is my glory, this is my song" in the poem; "This is my story, this is my song" in the hymn) reminds us that even the most humble of lives contribute meaningfully in the glorious fabric of humanity.​
These leaves on the ground;
each one a page in the Book.
CONKER - from "The Lost Words"
by Ramona Luengen
SSAA with piano – CP 2194  – duration 3:17
Although all the spells are uniquely enticing, I was attracted to Conker firstly (and simply) because of the noise they make as they fall to the ground. How can this be translated via music relying on the magical capabilities of the human voice? Furthermore, there is a significant second element to this spell-a fabulous little story which quite naturally sets the scene for a modem fairytale being read aloud. What a perfect combination for inspiration!
When the most recent edition of the Oxford Junior Dictionary – widely used in schools around the world – was published, a sharp-eyed reader soon noticed that around forty common words concerning nature had been dropped. The words were no longer being used enough by children to merit their place in the dictionary. The list of these "lost words" included acorn, adder, bluebell, dandelion, fern, heron, kingfisher, newt, otter, and willow. Among the words taking their place were attach-ment, blog, broadband, bullet-point, cut-and-paste, and voice-mail. The news of these substitutions – the outdoor and natural being displaced by the indoor and virtual – became seen by many as a powerful sign of the growing gulf between childhood and the natural world.
In response, Robert Macfarlane and Jackie Morris set out to make a "spell book" that would conjure back twenty of these lost words, and the beings they name, from acorn to wren.
Morna Edmundson, Elektra Women's Choir director, decided to commission 10 composers to write 2 compositions each – 20 compositions set to the poetry of Robert Macfarlane – and a fabulous concert program was born (premiered in 2022). These pieces are available individually and also as a complete book. They can be performed with piano alone or with instrumentation; flute/piccolo, violin, cello, clarinet/bass clarinet and marimba/percussion.
FERN - from "The Lost Words"
by Ramona Luengen
SSAA with piano – CP 2192  – duration 1:45
I was attracted to Fem for several reasons, including the author's marvellous use of alliteration and the tightly-wrought, almost stark, writing. I was, however; most intrigued by how active, visual words such as rolling, unfolding, flaring and fanning could be transformed and demonstrated chorally.
How the Blossoms are Falling
by Ramona Luengen
SSAA – CP 1314   – duration 5:15
Ramona has given a exquisite setting to Joy Kogawa's poem and dedicated it to the late Diane Loomer. Listen to the quality recording by the Elektra Women's Choir. 
Mésange
by Ramona Luengen
SATB  –  CP 1047   – duration 3:00
Based on a French poem by Rainer Maria Rilke this piece replicates musically Rilke's intimacy with the reader, his careful attentiveness and his magical poetic transformation of what is often seen as a common bird. A very gentle, evocative setting, Mésange requires subtle shading and tenderness of tone.
Missa Brevis
by Ramona Luengen
SSAA  –  CP 1038   – duration 5:25
This short mass setting for unaccompanied women's or treble choir consists of Kyrie, Sanctus, and Agnus Dei. Although not technically demanding, the work requires sensitivity of phrasing and detailed attention to text and word stress. The heartfelt simplicity of expression underlines the inherent reverence and beauty of this liturgical text. Performance note: Missa Brevis can also be sung by a mixed chorus with tenors doubling sopranos and basses doubling altos.
Salve Regina
by Ramona Luengen
SSAA  –  CP 1010   – duration 4:30
One of the Catholic Church's four Marian antiphons, is set for unaccompanied women's choir and solo flute or solo soprano. With thick, luscious harmonies, this is a challenging piece of music, at times requiring 8-part divisi. The work requires a good sense of flow, attention to word stress and a convincing understanding of the pieces structure.
Tenebrae Factae Sunt
by Ramona Luengen
SATB  –  CP 1006   – duration 4:25
This is a challenging work for unaccompanied mixed chorus and alto solo. The biblical text refers to the last hours of Christ on the cross, when "darkness covered the earth." The work employs a relatively consonant yet contemporary harmonic language and requires controlled, dramatic and well-tuned ensemble singing.
Ubi Caritas
by Ramona Luengen
TTBB  –  CP 1036   – duration 4:55
This composition is a setting of the second verse of the beautiful Maundy Thursday text, Ubi Caritas. The works character and melodic structure is strongly based on chant and, as a result, requires a sensitive approach to subtle tempo changes, text and phrasing. Well-balanced sections are essential. After several climatic sections, the piece ends very simply and poignantly with a request for peace and understanding. Level: moderately difficult.