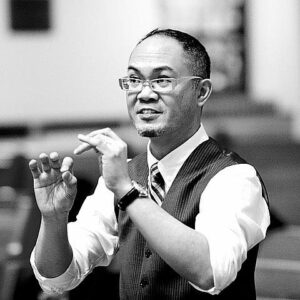 Born and raised in Winnipeg's West End, Philip Lapatha has been shaped by inspiring teachers, long-lasting friendships, and loving family ties.  He lives in downtown Winnipeg and is a proud supporter of the city's local coffee, bakery, and artisan scene.  He enjoys weekend board games, hanging out with friends, and conversing about choir, people, and solving problems in his small part of the world.
Philip teaches choir with Dorothy Dyck at Maples Collegiate, a large high school in northwest Winnipeg with six choral groups in a vibrant performing arts program.   In addition to his work at Maples Collegiate, Philip has had the pleasure of directing several of Manitoba's community choral groups, including Ecco Singers, SonoLux Choir, the Provincial Honour Choir, and the regional youth choirs (Eastern Manitoba, Central Manitoba, and Western Manitoba).
Bonny Portmore
arr. Phillip Lapatha and Dorothy Dyck
SATB a cappella – CP 1872 – duration 4:05
This arrangement of the Irish folksong is musically characterized by lush harmonies, full texture, and a loyalty to the original strophic structure of the song. The song tells the melancholic story of the Great Oak of Portmore, a grand tree and symbol of nationalistic pride for Ireland that fell in a great storm in 1760.