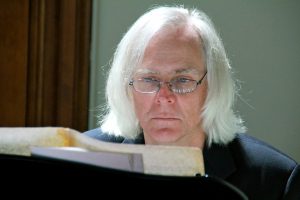 PETER ALLEN is an active member of the Canadian League of Composers and the Canadian Music Centre, Peter has been commissioned to write numerous pieces which were often recorded and broadcast by the CBC, and has also been active in the jazz and rock community as a player and a writer, and also as a church musician and composer of sacred music.  His undergraduate studies in music were at the University of Manitoba, with graduate studies at McGill in Montreal, and USC and UCLA in Los Angeles.
To date Peter has scored over 120 films for a wide variety of Los Angeles, and Canadian film companies including Paramount Pictures, Sony Pictures, Warner Brothers, Twentieth Century Fox, Universal Pictures, Disney, Hallmark, Lifetime, Cinetel, the CBC and the National Film Board of Canada, as well as composing numerous songs. learn more here
Peter served as music director at St. Mary's Cathedral in Winnipeg, and presently is music director at St. Augustine's Church in Kitsilano.  While living in Hollywood Peter also played in many churches of many denominations throughout Los Angeles, which turned out to be an education in itself.  In 1984 the Archdiocese of Winnipeg commissioned Peter to write a new mass for the visit of Pope John Paul II, which was premiered at the outdoor mass at Bird's Hill for a gathering of 300,00 people.  Since that time Peter has written numerous mass settings as well as anthems and psalm settings.
AVE MARIA
by Peter Allen
SATB a cappella  –   CP 1768   – 7:00
The Ave Maria was written in 2011 for the 100th Anniversary of St. Augustine's Church in Kitsilano, and has been performed numerous times for various occasions.  This piece, by music director Peter Allen, is an evocative a cappella setting in chant form, of Luke chapter 1, verses 46 to 55, essentially the Magnificat, which is interrupted on two occasions by an SATB choral, "Ave Maria gratia plena …".