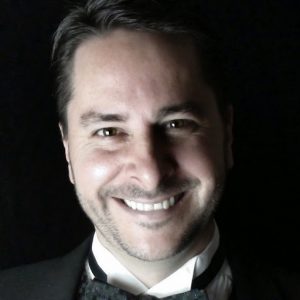 Dr. Paul A. Aitken (b. 1970) is Director of Music & Worship Arts and Composer-in-Residence at the Cathedral of the Rockies in Boise, Idaho where he oversees more than twenty ensembles and a professional staff of six spanning two campuses. The first ever winner of the ACDA Brock Student Composition Competition for his piece "Flanders Fields," Aitken is sought after as both conductor and composer. He has been commissioned by organizations such as the American Guild of Organists, the State of Idaho, and the Boise Philharmonic Master Chorale. Aitken made his Carnegie Hall debut in 2010 conducting his major work, And None Shall Be Afraid with a choir of 200 and the New England Symphonic Ensemble.  Aitken now has more than 40 compositions to his credit spanning more than two decades of writing.
Au claire de la lune
by Paul Aitken
SATB with piano – $2.35 – CP 1711; duration – ?
The 18th century French children's poem, "Au clair de la lune," comes alive in this vibrant and colourful setting by award-winning composer, Paul A. Aitken.  The composition won the 2018 Chronos Composition Competition and was premiered by Chronos Vocal Ensemble in January 2019.  An accompanied version will be made available later in 2019.
Donkey Riding
by Paul Aitken
SATB with piano – $2.35 – CP 1450; duration – 1:40


SA (two part) with piano – $2.35 – CP 1424; duration – 1:40
Imagine hauling timber out of the bush back in the 1930's. The steam donkey was often used to do the heavy lifting – loading trains. This is a classic Canadian folksong and Paul has brought it to life with this spirited arrangement.
The Lake Isle of Innisfree
by Paul Aitken
SATB with piano – $2.35 – CP 1408; duration – 4:25
The classic poem by William Butler Yeats comes to life with Paul's sensitive and joyful composition.