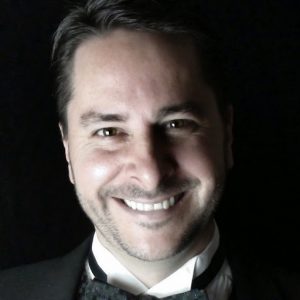 Dr. Paul A. Aitken (b. 1970) is an accomplished freelance composer, conductor, and the Director of Music Emeritus at the Cathedral of the Rockies in Boise, Idaho.
Recognized for his work in the choral arts, Aitken achieved notable milestones in his career. He made history as the inaugural winner of the ACDA Brock Student Composition Competition with his masterful composition, "Flanders Fields." In addition, he was honoured with the renowned Chronos Vocal Ensemble Prize in 2018 for his captivating piece, "Au clair de la lune," and his autobiographical composition, "How Can I Keep from Singing," earned him the prestigious 2021 American Prize in Choral Music.
Aitken's expertise and artistry are in high demand, and he receives commissions from organizations such as the American Guild of Organists, the Boise Philharmonic Master Chorale, and the Brazos Valley Chorale. A true highlight of his career was his remarkable Carnegie Hall debut in 2010, where he conducted his cantata, "And None Shall Be Afraid." He returned to the illustrious Carnegie Hall stage in May 2023, enthralling audiences with a set of his choral/orchestral works.
Aitken's musical compositions are widely recognized and published by several music publishers, including Alfred Music, Cypress Music, Paraclete Press, or through his official website, www.paulaitkenmusic.com.  
In addition to his musical accomplishments, Dr. Aitken is a dedicated lifetime member of the American Choral Directors Association (ACDA). He has served in various leadership roles at the State, Division, and National levels, including his tenure as the National Chair of Music in Worship. Aitken is also a member of Choral Canada and is an Associate Composer with the Canadian Music Centre.
Dr. Aitken holds degrees from esteemed institutions such as the University of Western Ontario, Southern Illinois University at Carbondale, and the University of Oklahoma. Since 2020, he and his wife, MacKenzie, have made their home in the captivating landscapes of Nova Scotia, Canada. They are proud owners and operators of the historic Maple Inn Parrsboro, a charming eight-bed boutique hotel situated along the picturesque and historically significant Bay of Fundy.
Au claire de la lune
by Paul Aitken
SATB a cappella – CP 1711  duration 5:45
SATB with piano – available upon request
The 18th century French children's poem, "Au clair de la lune," comes alive in this vibrant and colourful setting by award-winning composer, Paul A. Aitken.  The composition won the 2018 Chronos Composition Competition and was premiered by Chronos Vocal Ensemble in January 2019.  An accompanied version will be made available later in 2019.
Donkey Riding
by Paul Aitken
SATB with piano – CP 1450 – duration 1:40   


SA (two part) with piano – CP 1424
Imagine hauling timber out of the bush back in the 1930's.  The steam donkey was often used to do the heavy lifting – loading trains.  This is a classic Canadian folksong and Paul has brought it to life with this spirited arrangement.
The Lake Isle of Innisfree
by Paul Aitken
SATB with piano – CP 1556 duration 4:25
The classic poem by William Butler Yeats comes to life with Paul's sensitive and joyful composition.