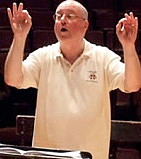 Patrick Wedd (b. 1948) directed his first church choir at the age of 12 and has been active in the world of choral music ever since. His church positions have included Christ Church Cathedral, Vancouver, Montreal's Church of St. Andrew & St. Paul and, since 1996, Christ Church Cathedral, Montreal. He is also Artistic Director of the Montreal Boys' Choir Course, and was conductor of the Tudor Singers for six years. His career as a pianist, harpsichordist and organist spans all branches of music from medieval to avant-garde. He has concertized extensively, recorded as soloist, accompanist and conductor, and is frequently heard as host and commentator on CBC radio. He composes and arranges, and was a significant contributor to the new hymnbook for the Anglican Church.
Carol for the Animals
by Patrick Wedd
SA with piano    –    CP 1011   – 3:00   


Imaginative Christmas carol written for childrens choir but also suitable for women. Wedd writes a beautiful setting to the text by Alice Carver Cramer. 
Veni Creator
by Patrick Wedd – (sorry, no suitable recording is available at this time)
This creative treatment of the original plainchant tune 'Veni Creator' is accessible to all church choirs of any size as well as non-sacred choirs (it's great for festivals).