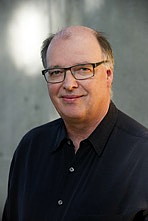 Owen Underhill (b. 1954) is a Canadian composer, flutist and conductor based in Vancouver. He is currently a professor of music at Simon Fraser University. He has been called a "central figure" in the new music scene on the West Coast, as a flutist, as co-music director of Western Front New Music (1982-3), as the artistic director (1987–2000) of the Vancouver New Music Society, and as a conductor in Magnetic Band and the Turning Point Ensemble, for which he is also currently the Artistic Co-Director.
Magnificat
by Owen Underhill  
SATB     a cappella     –    CP 1368   – 6:35
This famous canticle of Mary has been set by many composers through-out the ages. Owen's setting is designed for accomplished choirs. His melodies and harmonies make the text come to life. Please listen to this marvelous rendition by musica intima.