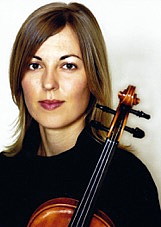 Miriam Sonstenes performs, composes and teaches fiddle music in Victoria BC, Canada. She is a member of the award-winning acoustic roots trio The Sweet Lowdown. With a background in classical violin, and a Bachelor of Music degree from the University of Victoria, Miriam has spent the past decade broadening her musical horizons, playing bluegrass, old time, country and swing. She has performed, recorded and toured with numerous west coast bands and solo artists. Freelance study throughout the Pacific Northwest, North Carolina, Louisiana and Ireland has enriched her knowledge of many fiddle styles. In 2015 Miriam was awarded a Canada Council for the Arts Musician's Grant to study with legendary bluegrass fiddler Bobby Hicks in North Carolina. Her command of the instrument, her compositions, and her joyful live performances are the product of her ceaseless, passionate study of diverse traditions of music. Recent performances include the Canadian Folk Music Awards, and CBC's Vinyl Cafe with Stuart McLean.
I Am Leaving
by Miriam Sonstenes 
SAB a cappella    –    CP 1560   – duration 2:50
SAA a cappella    –    CP 1806
This composition is a reflection on the challenges of having family far away, and the visits which are so precious and never long enough. Miriam's writing is simple and yet profound with heart felt nuance. It would make a lovely closing song to a concert.