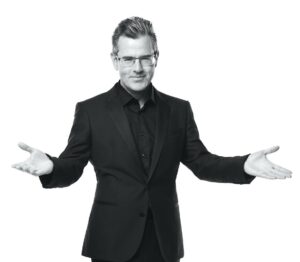 Swiss-native Michael Zaugg has distinguished himself as an innovative and versatile conductor, pedagogue and clinician, active across Canada – from Vancouver to St John's – and in Europe. Currently in his 10th season as Managing and Artistic Director & Principal Conductor of the professional chamber choir Pro Coro Canada in Edmonton, Michael previously led other prominent Canadian choirs including, in Montreal, the St. Lawrence Choir (2008-2013), and voces boreales (2006-2015), and the Cantata Singers of Ottawa (2005-2014). Michael Zaugg has worked with notable groups including the Vancouver Chamber Choir, National Youth Choir of Canada, the BBC Singers, Vancouver's musica intima, the Nova Scotia, Alberta, New Brunswick and Ontario Youth Choirs, Thirteen Strings, as well as the Longueuil Symphony Orchestra. As Chorus Master of the Orchestre Symphonique de Montréal (2006-2011), Michael successfully prepared groups of up to 1500 singers for OSM Artistic Director Kent Nagano. A passionate pedagogue, Michael Zaugg is strongly committed to his work not only with choirs but also with emerging artists.
Since 2018 has been the Program Director of CHORAL ART at the Banff Centre for Arts and Creativity. Maestro Zaugg created the emerging artist program EAR with Pro Coro Canada, which provides opportunities to young composers, singers and conductors. Between 2008 and 2021 choral ensembles under Michael's direction have commissioned and premiered over 40 Canadian choral works.  In 2020 Michael Zaugg received the Choral Canada national Award for Outstanding Innovation for the CHORAL ART at the Banff Centre for Arts and Creativity. He was also a 2020 recipient of the Edmonton Artists Trust Fund Award, which annually honours ten local artists for their creative work and contributions to the community.  Mr. Zaugg also holds degrees in voice, conducting and music education from the University in Basel, and in conducting from the Royal College of Music in Stockholm.  In 2018 he was awarded an Honorary Doctor of Music Degree (Hon DMus) from King's College, University of Aberdeen, Scotland.
Auld Lang Syne
arr. Michael Zaugg
SATB a cappella – CP 2031 – duration 5:50
Michael has crafted a solid, rousing and compelling choral setting for the well known anthem. Choirs at all levels of ability will love it. The composition includes sections for audience singalong. 
Some Sweet Day
by Robbie Smith
arr. Michael Zaugg
SATB a cappella – CP 2029 – duration 4:45
There have been many songs about going to heaven, such as the campfire singalong "Way Beyond the Blue". Robbie's song is simple yet profound and Michael has created harmonies that will transport any listener to higher realms of glory.  This setting is designed for accomplished singers.
Some sweet day I shall wake up in a new land
Lift my eyes to the Heavens and behold
My soul will rise into the skies above the islands
And I shall know the glories of a story still untold