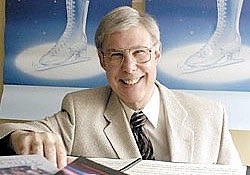 Michael Conway Baker (b. 1937) from Vancouver,  is considered to be a leading composer in many fields of musical endeavor. His over 200 film, television and video music scores owe much of their distinctive and award winning success to his extensive background in writing concert music. At of 2013 his 163 opus output included full length ballets, 2 symphonies, concertos for a wide variety of instruments, choral, concert band and a library of 180 latin and standard world competition dances for a US network ballroom dance series. Baker's many awards include a Juno for his Piano Concerto, three Canadian Academy Awards (Genies) for film scores, an award (ACTRA) for best music for a television series, as well as being nominated 7 times for various film and tv awards including Best Song in a Feature. He has several 'Body of Work' awards and in 2003 he received the Queen's Golden Jubilee Medal. Michael is listed in the current edition of the Grove Music Dictionary. He was invested with the Order of British Columbia in 1997. In 2006 Michael was inducted into the British Columbia Entertainment Hall of Fame with a star on the sidewalk of Granville Street.
Alleluia
by Michael Conway Baker
SATB with piano – CP 1700 – 2:10
People have been singing and shouting "Alleluia" for thousands of years. Can one express joy and thanksgiving in a minor key? This new work by Baker answers, "Yes, indeed!". Many compositions start softly and slowly and build in intensity all the way to the end. The form of this piece develops in the opposition direction; from molto gusto to andante. The piano accompaniment really sparkles and requires a skilled player. The vocal lines are intuitive and in sweet spot registers. This unique composition would make a great opener to any concert.