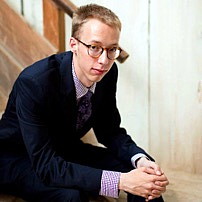 Matthew Emery (b.1991) is a Canadian composer who "writes with an honesty which enchants" (Vancouver Sun). His music has been performed across North America (Canada, USA), Europe (England, Sweden, Estonia, Russia, Spain, Poland, Czech Republic, Austria), Asia and Oceania (China, New Zealand, South Korea) and has been heard on national television and radio. Matthew is the recipient of the ACDA Raymond W. Brock prize (USA) and the ACCC Diane Loomer award for Choral Writing (Canada), among many other awards from across North America. Matthew studied at the University of British Columbia and the University of Toronto. He is a member of the Canadian Music Centre, Canadian League of Composers and is composer-in-residence with the Amabile Choirs of London, Canada and the ORIANA Women's Choir in Toronto. 
A Kind Heart
by Matthew Emery
TTBB with piano $2.50 CP 1570 duration – 4:20
SATB with piano $2.50 CP 1569
The beautiful and life affirming poem by Marjorie Pickthall is given a classy and poignant setting in the inimitable Emery style.
Born Like the Pines
by Matthew Emery
SAB  with piano  $2.35   CP 1344  duration – 3:05
Anyone who has experienced the wonder of a walk through the forest will love this song. The SAB setting is perfect for young choirs or choirs that are short on tenors. However, the men often carry the melody, making the composition suitable for choirs of all levels.
The Lover's Chant
by Matthew Emery
SATB  a cappella  $2.35   CP 1290  duration – 2:10
They say cream rises to the top and Matthew won the ACCC Diane Loomer award with this choral gem – a beautiful setting of the James Joyce poem.
Dr. Julia Davids added this piece to her Canadian Chamber Choir Series.  Directors and singers will appreciate the intuitive voice leading, long phrases and meaningful text. 
Sleep Now
by Matthew Emery
TTBB a cappella $2.35 CP 1415 duration – 3:20
SATB a cappella $2.35 CP 1416
Matthew chooses this texts carefully – in this case, a lovely poem by James Joyce. Comfort and rest – sleep.
The Song My Paddle Sings
by Matthew Emery
SATB  a cappella  $2.35   CP 1304  duration – 3:55
SSAA  a cappella  $2.35   CP 1375 
The famous poem by E. Pauline Johnson comes to life with Matthew's fine choral inclinations. If you've ever paddled a canoe – and even if you've only seen a mountain lake – you'll love this poignant composition.
Where Healing Waters Flow
by Matthew Emery
SATB a cappella $2.35 CP 1572 duration – 3:20
Serene choral music, full of prayerful pleading – to the lyrics of Paul Laurence Dunbar (b. 1872) – who gave the world beautiful and meaningful poetry. He was the first African American to achieve acclaim for his writing, – he was the son of slaves'.