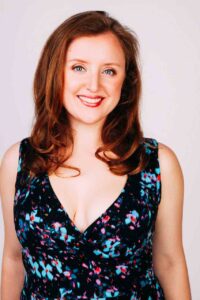 Leora Joy Perrie is an accomplished singer, songwriter, voice teacher, and musical theatre performer.  She has performed across North America, in both concert and theatre settings, with the National Arts Centre, Arts Club Vancouver, the Regina Philharmonic Chorus, the Regina Symphony Orchestra, Theatre Calgary, Globe Theatre, the Vancouver Chamber Choir, and the Canadian Chamber Choir.  Leora is a graduate of the American Musical and Dramatic Academy, and holds her Associate in Vocal Performance from the Royal Conservatory of Music, Toronto. 
Leora met her husband, Scott Perrie, in 2012, and they formed the duo Winsome Kind (www.winsomekind.com). Winsome Kind has released 2 full-length albums, and numerous other singles and music videos.  She was recently commissioned to arrange a Winsome Kind original for SATB choir.  Her choral piece "Shall I Compare Thee" was recently recorded by the award-winning Canadian Chamber Choir, and is included on their la album.  She finds so much joy in performing and sharing her music, that she is constantly diversifying and practicing her craft to follow her passion in sharing music to heal the world. 
Shall I Compare Thee?
by Leora Joy Perrie
SATB a cappella – KH 092 – duration 4:35
Exquisite poetry with music to match; Leora's rendition of a famous Shakespeare poem comes to life. Listen to the beautiful recording by the Canadian Chamber Choir (one of Canada's finest choirs).
Shall I compare thee to a summer's day?
Thou art more lovely and more temperate.
Rough winds do shake the darling buds of May,
And summer's lease hath all too short a date.
Sometime too hot the eye of heaven shines,
And often is his gold complexion dimmed;
And every fair from fair sometime declines,
By chance, or nature's changing course, untrimmed;
But thy eternal summer shall not fade,
Nor lose possession of that fair thou ow'st,
Nor shall death brag thou wand'rest in his shade,
When in eternal lines to Time thou grow'st.
    So long as men can breathe, or eyes can see,
    So long lives this, and this gives life to thee.