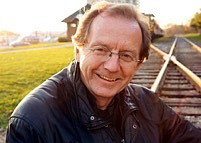 Canadian composer and conductor Leonard Enns (b. 1948) holds advanced degrees from Northwestern University, Chicago: a PhD in Music Theory (with a dissertation on the choral music of Harry Somers), and a Master of Music in choral conducting (supervised by the late Margaret Hillis); and undergraduate degrees from Wilfrid Laurier University, Waterloo, Ontario, and Canadian Mennonite University, Winnipeg, Manitoba. Enns has been on faculty in the Music Department at Conrad Grebel University College, University of Waterloo, Ontario since 1977, where he teaches conducting, composition and theory, and is actively involved directing choral ensembles. He is the founding director of the Waterloo-based DaCapo Chamber Choir (www.dacapochamberchoir.ca), working predominantly with contemporary and much Canadian music with that group. His NOCTURNE was a 2010 JUNO nominee as Classical Composition of the Year.  Visit Leonard's website here:   www.lenns.ca
Deep Peace, Healing Light
by Leonard Enns
SSA a cappella  –   CP 1224   – duration 2:30
Treble choirs; women or children, will really connect with this heartfelt expression.
Deep peace of the running wave to you,
Deep peace of the flowing air to you,
Deep peace of the quiet earth to you,
Deep peace of the shining stars to you
Deep peace of the gentle night to you,
Moon and stars pour their healing light on you 
God is the Dance
by Leonard Enns
SSTB with piano  –   KH 041   – duration 2:50
Who is the life within the grain
Who gives the sun, who brings the rain?
And fills both dawn and dusk with praise?
Who is the dance in all our days?
Red River Valley
arr. by Leonard Enns
SATB with piano, optional strings  –   CP 1354   – duration 2:50  


Len has set this classic Canadian folk song to suit a mixed choir. (It's usually from a cowboy's point of view) 
A touch of country humor in the harmonies and accompaniment will endear the audience.
Listen to the laughter on this recording. The string players were holding their instruments like guitars.
Come and sit by my side if you love me. Do not hasten to bid me "adieu".
optional string parts – $20 for the full set – sent via PDF files.
This Day
by Leonard Enns
SATB a cappella  –   CP 1355   – duration 4:50
This Day is an exuberant anthem – perfect for any choir that wants to celebrate the rising of the sun and the joy of a fresh start each day. Diatonic voice leading into unique dissonances make this piece both approachable and exciting.
Winter's Blanket
by Leonard Enns
SSAA a cappella with opt. piano  –   CP 1173   – duration 2:25
This lovely musical gem sings itself with a lyrical melody, sweet spot vocal registers and intuitive voice leading.  Women and the audiences they sing for will love it! Ideally suited for a Christmas program but will work fine any time of year.
"Winter is a striking (and bracing!) reality on the Canadian prairies, and Christmas takes on a special character because of this.  Snow is, of course, an overwhelming presence.  I have taken this soft gift of winter as an image of Christ's presence among us—the biblical promise that the Messiah will make the rough places plain finds a wonderful parable in the quiet snowfalls that gently smooth the plough furrows of the fields. There is forgiveness and hope in this blanket of white that soothes and smoothes the rough earth in its annual ritual." L.E.