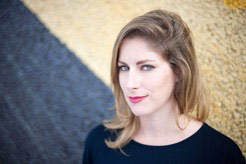 LEAH ABRAMSON is a singer, songwriter, and composer from Vancouver, B.C. After touring internationally with indie rock and folk bands, as well as her previous project, The Abramson Singers, Leah released her fourth album of original songs in 2018. Along with her Master of Fine Arts in Creative Writing (focus on lyrics) at the University of British Columbia, Leah has studied classical music at Capilano University, and traditional Appalachian balladry. Leah's project, Songs For a Lost Pod, is a collaboration with Pacific Northwest orcas that turns whale vocalizations into beats, and scientific research on marine mammals into lyrical fodder.
To learn more, please visit leahabramson.com
Liftoff Cannon Chorale
by Leah Abramson
SSAA – a cappella – CP 1662 – – 2:35
SATB – a cappella – CP 1688 – – 2:35
Unusual, evocative, innocent, and delightful – these are words people have used to describe this fetching composition. Singers and listeners will enjoy the multiple layers Leah adds over a simple ostinato – which can be played on piano, organ or even xylophone/Orff instruments. Leah's relatable message is that it's easy to become stuck in patterns, and that we must do our best to "liftoff" and free ourselves from what weighs us down.