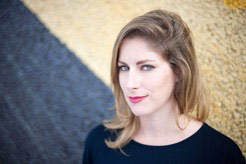 Leah Abramson
is a songwriter and composer, whose work explores vocal harmonies, soundscapes, and the intersection of humanity and the environment. After years spent touring internationally, performing with various bands, Leah now adds playwright, producer, and music director to her credits, with Songs For a Lost Pod, her large-scale interdisciplinary production produced in 2022. Leah holds an MFA in Creative Writing (focus on lyrics) from UBC, and currently lives and works in Vancouver, on the traditional, unceded territories of the Musqueam, Squamish, and Tsleil-Waututh Nations.
To learn more, please visit leahabramson.com
Liftoff Cannon Chorale
by Leah Abramson
SSAA – a cappella – CP 1662 – – 2:35
SATB – a cappella – CP 1688 – – 2:35
Unusual, evocative, innocent, and delightful – these are words people have used to describe this fetching composition. Singers and listeners will enjoy the multiple layers Leah adds over a simple ostinato – which can be played on piano, organ or even xylophone/Orff instruments. Leah's relatable message is that it's easy to become stuck in patterns, and that we must do our best to "liftoff" and free ourselves from what weighs us down.
Blood Red Roses
arr. Leah Abramson
SSAA with piano – CP 2120 – duration 3:35
SATB with piano – CP 2121

Blood Red Roses by Leah Abramson is a rewrite of a traditional whaling song with a twist: this version is from the perspective of the whales. Though the original refrain remains, its newly written verses hear a family of whales singing back to the industrial society that nearly hunted them into extinction for their oil and baleen. Abramson's heartrending chord progression takes Blood Red Roses from traditional folk song to new environmental anthem for the 21st Century.
Blood Red Roses is also part of Songs For a Lost Pod, a multi-disciplinary show by Leah Abramson that combines scientific research, orca vocalizations turned into beats, and the impacts of intergenerational trauma on families. Told from the perspective of various whale species, as well as their human counterparts, Songs For a Lost Pod uses music, storytelling, and shadow puppetry to juxtapose cetacean histories with one family's experience of surviving the Holocaust.
More about Songs For a Lost Pod – click here
Press for Songs For a Lost Pod
Create a Stir: Articles on "Song for a Lost Pod"
Georgia Straight: Singer-Songwriter, Leah Abramson reconnects with her tragic family roots via "Song for a Lost Pod"
Vancouver Sun: Family trauma surfaces in Leah Abramson's "Songs for a Lost Pod"
Asparagus Magazine: Leah Abramson explores grief about climate crisis in performance, built around orca song