NO MORE FEAR OF DYING – THE EASTER ORATORIO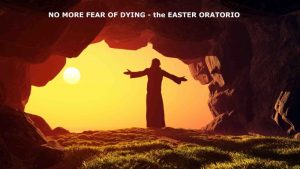 The Resurrection of Christ is an absolutely thrilling story and the crux of the Christian faith. No More Fear of Dying is ideally suited for church choir ministry. 18 songs for SATB chorus and soloists vividly portray the Biblical account of Christ's final days on earth – the Passion Week. Understanding the challenges and limitations faced by church choirs, Larry has written several songs which can be used in other contexts. Come to the Upper Room – for example – works well with any communion service or mass.
The choir pictured in the banner above was a non-auditioned come-one-come-all church choir with singers ranging in age from 14 to 72. Several parents were singing with their children. Please watch the performance – videos below. (from Easter Sunday – April 12, 1998)
No More Fear of Dying is 55 minutes long. Genres include cappella liturgical, bossa nova, blues/jazz, gospel and rock – music written to fit the Biblical text (which ranges from sorrowful – to declamatory, angry and sarcastic – to comforting and joyful). Sweet spot vocal registers and intuitive voice leading make the music really approachable. There are many dramatic possibilities in this music and choirs are encouraged to use their imagination and make adaptations. Although the Oratorio works well with piano accompaniment alone, Larry has scored parts for bass guitar and percussion. During 2020 Larry will be rewriting his Easter Oratorio for a new premiere in 2021 – with orchestral instruments.