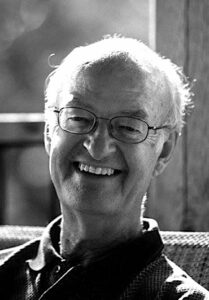 John Barron (1939-2014) was an inspiring music educator, consultant, clinician, arranger, author, and conductor. He received numerous awards for his contributions to choral music, including the Order of Canada, and a lifetime achievement award from the Association of Canadian Choral Conductors. John's passion, musicality and generosity inspired and supported hundreds of young musicians. He loved hearing from former students and choir members and learning what paths their lives had taken. 
At a time when most other kids didn't know doh, John Barron somehow mustered 1,000-voice choirs from small rural schools and turned them into singers. In a 45-year choral career, he developed, taught and authored a curriculum that transformed elementary-school music instruction from a hit-or-miss classroom effort into a cohesive approach that became the gold standard across the country. His music helped tens of thousands of school kids find their voices.
Tutira Mai Nga Iwi
arr. John Barron
SSA with piano – KH 106 – duration 2:20
This New Zealand folk song is famous across the country – sung at football games!