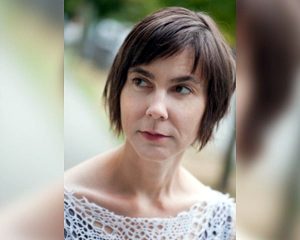 With a discography of twelve CDs, and numerous performances and broadcasts throughout North America and Europe, Jocelyn Morlock is fast becoming known as one of Canada's leading composers.
With its "shimmering sheets of harmonics" (Georgia Straight) and an approach that is "deftly idiomatic" (Vancouver Sun) Morlock's music has received numerous national and international accolades, including: Top 10 at the 2002 International Rostrum of Composers; Winner of the 2003 CMC Prairie Region Emerging Composers competition; winner of the Mayor's Arts Awards in Vancouver (2008); two nominations for Best Classical Composition at the Western Canadian Music Awards (2006, 2010) and most recently a Juno Nomination for Classical Composition of the Year (2011, Exaudi.)
Morlock's international career was launched at the 1999 International Society for Contemporary Music's World Music Days with Romanian performances of her quartet Bird in the Tangled Sky. Since then, she has become the composer of record for significant music competitions, including the 2008 Eckhardt-Gramatté National Music Competition and the 2005 Montreal International Music Competition, for which she wrote Amore, a tour de force vocal work that has gone on to receive more than 60 performances and numerous radio broadcasts.
Jocelyn Morlock completed a Bachelor of Music in piano performance at Brandon University, studying with pianist Robert Richardson. She received both a Master's degree and a Doctorate of Musical Arts from the University of British Columbia. Among her teachers were Gerhard Ginader, Pat Carrabré, Stephen Chatman, Keith Hamel, and the late Russian-Canadian composer Nikolai Korndorf.
One Black Spike
by Jocelyn Morlock
SATB a cappella  $2.50  CP 1740 – duration – 3:00
The railway was key to the progress of civilization in North America. 
Io, Io
by Jocelyn Morlock
SSAATTBB a cappella $3:25 CP 1741 duration – 6:35
The Vancouver Cantata Singers won the Healey Willan award (first place in Canada) with this challenging and joyful composition.