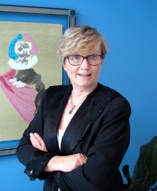 Jean McKen completed her undergraduate studies in music education at the University of Western Ontario and then received a Master's of Science in Music Technology from Indiana University in Indianapolis. She has studied trumpet with Chase Sanborn and William Sperandei, as well as jazz harmony with Frank Falco in Toronto. In tandem with her busy teaching career in Ontario Canada, Jean has composed music for small ensembles, jazz combos, pop radio and choir. In 2009, she won the Canadian Music Educators Association 50th Anniversary Song Con with her submission 'I Am Song, Je Suis Chanson'. Most recently, she has authored two award winning online interactive products that engage students in the learning of music theory and composing: Breezin' Thru Theory & Breezin' Thru Composing.
I Am Song - Je suis chanson
by  Jean McKen      
SAB    with piano    –     CP 1542   – 4:05
SSA    with piano    –     CP 1541
This award-winning song is an uplifting and unifying anthem. Through personification, the song and its singers embark upon a descriptive journey across Canada, while illustrating the important role music plays in peoples' lives, and urging them to join in. Have a listen!