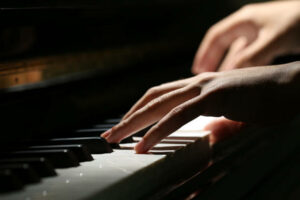 The music of Janet Smiley blends two of her major interests:  harmony and sacred texts.
Over the years she has written music for church choir, soloists and chorus.  Her la work is a book of interludes for the church pianist, and another book of choral interludes using texts by David Adam and John Henry Newman.
Janet is fortunate to live close to her family. She spends time with her three grandchildren – who bring her great joy.
Weave a Silence
by Janet Smiley
SATB a cappella – KH 114 – duration 1:35
At its core, Weave A Silence is a preparation for prayer.  Written by David Adam, it continues the rich Celtic tradition of intertwining the ordinariness of daily life with the divine glory.  The music is set in Eb to evoke a sense of stillness, and is suitable for all choirs at all levels