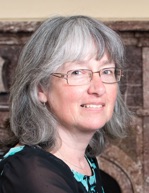 Jane Best (b. 1959) was born in Kingston, Ontario and began learning piano there as a child.  When she moved to Toronto, she continued studying piano at the Royal Conservatory of Music, and also participated in the children's choir at St. George's United Church. Later she studied music part-time at the University of Toronto before moving north 21 years ago to Manitoulin Island, to raise her family in the beautiful fresh air surrounded by lakes and trees and rocks.  She directed choirs for 6 years at Lyon's Memorial United Church in Gore Bay, and went on to serve as church musician for All Saints Anglican for 8 years.  Presently she directs the Manitoulin Community Choir, a choir of approximately 30 voices of many ages, and a sacred vocal quartet called In A Chord which visits churches to sing both a cappella and accompanied music.  Together with her family and friends she has recorded 3 CD's of her songs, and several of her other choral pieces are available from Oceanna Music and from Kelman Hall.  Two of her hymn tunes may be found in More Voices. Jane also teaches piano and guitar and folk harp. She is a member of the Hymn Society, and also attends the Summer Institute of Church Music for encouragement and fresh inspiration.
The Lord is My Light
by Jane Best
SATB a cappella  –   CP 1171   – 2:10
Jane Best's composition is a musical gem – suitable for any choir that enjoys singing in four part harmony.  The uplifting message, sweet spot vocal registers and gentle swing rhythms will stir the listener.  Church choirs will love it too!
Keep Your Lamp Burning
arr Jane Best 
SATB a cappella  –   CP 1301   – 2:05
This traditional spiritual is set in comfortable 4-part harmony with simple syncopation energizing the rhythm.  Originally sung by Jane's community choir, this song works well inside and outside the church.